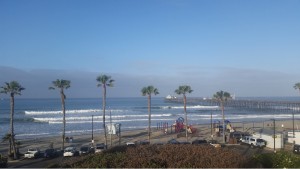 This year for Spring Break, we contemplated going back to Puerto Rico or another island in the Caribbean. Maybe Costa Rica would be nice again or trying somewhere new like Panama could be adventurous. Flights were looking pricey to all those places, so we spun the globe and looked at a few locations that might entertain the family for a little spring getaway. Our final decision: Southern California.
Spring Break for the kids this year was paired with Easter, meaning we had a few extra days to travel if we wanted too. When looking at all of our options, we landed on traveling Thursday to Thursday, giving us a full week to live the southern California lifestyle—or at least try to. Everything would be great, as long as we could get there!
Our vacation began early in the morning on March 24th (happy birthday mom!). We were up around 5:00 am, did some final packing then we were off to the airport just after 5:30 am. Today we decided to do the park and ride, we had time and it would save us a money on parking. The Jeep was nestled in, we got on the bus, and we were at Terminal 2 at RDU about an hour before our flight.
Here's where things got interesting. The lines to check bags were outrageous. As-in, I've never seen Delta this busy before. The line at Sky Priority is usually 5-6 people deep at most. This morning was 25-30. The regular line was wrapped around itself. We got in line and started to wait. Once I realized we wouldn't make the 30 minute cut-off for our checked bags, Merri Beth and I had to make a tough decision: stay together and miss the flight or split up and roll the dice.
Our decision, without much debate or hesitation, was to separate. MB would take both kids and get on the plane. I would get our bags checked and roll the dice—knowing my chances to get on the original flight were getting slim with each passing minute. MB and the kids were on the direct flight to LAX, I finally got the bags checked 10 minutes before the flight was taking off—a flight that I wouldn't be on. I was re-booked on a flight to San Diego that would take me through ATL at a much later time that I would have preferred.
Merri Beth, Zander, and Coco landed on the west coast before my flight took off. They got the rental car and headed south toward San Diego. A combination of the I-5 and Pacific Coast Highway would get them there. Several stops along the way to take in the scenario were a much needed part of the experience. For example, Las Flores Viewpoint had animal entertainment and a great view of San Onofre Nuclear Generating Station (SONGS) or if you're a surfer, Trestles.
Once they made it to San Diego and checked into the hotel, they hit up the grocery store and grabbed some dinner at Buns—a little burger joint near the hotel.
Meanwhile, back in North Carolina…I was camped out at RDU airport waiting for my 1:30 pm flight to Atlanta. I got several hours of work in while I waited, grabbed some lunch, and explored Terminal 2. I walked the entire terminal (twice) and found new things that I didn't know about. There is a wine bar (a little pricey) and to my surprise, no Mexican or burrito place.
Once in Atlanta, I had a 90 minute layover. I walked from Terminal E to Terminal A to minimize my wait time. The flight to San Diego was overbooked and Delta was giving away $1,000 vouchers. I thought about it for half a second—I had a first class seat on a five hour flight to the west coast and I really wanted to see my family.
Once I landed in San Diego, MB and the kids picked me up from the airport. We made it back to our hotel and settled in for the night. Our plan was to head to the San Diego Zoo tomorrow, and we wanted plenty of rest before a full day at one of the top rated zoo's in the nation. I was exhausted form traveling all day (MB was too). The kids crashed, we crashed, and now that we were all here, Spring Break can officially begin!