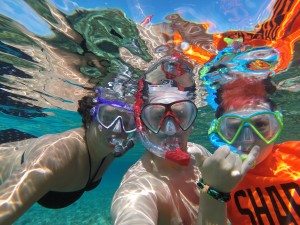 We were ready for a full day on the beach and decided to head to the western part of Turks and Caicos to explore Malcom's Beach. Getting there was pretty easy, but there were a few parts where we did question our decision. Let's say the bumpy roads, mud puddles, and single lane roads were well worth it.
Island Time: Saturday, December 19, 2015
After breakfast we drove to Malcolm's Beach for an amazing day. It was about a 25 minute drive from our place near Turtle Cove. While the adventure was interesting, the beach was amazing. We literally had a few hours on the beach to ourselves.

It was a perfect beach day for us. Nice breeze, full sun, and snorkeling to the max. Coco wasn't quite into it, but we tried to get her acclimated to her gear, but it didn't work out that great. While Coco napped, MB, Zander and I explored the reef. Top notch. Amazing.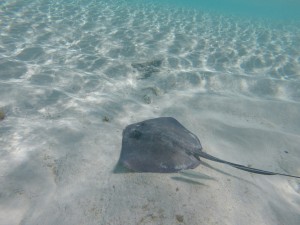 The water was crystal clear, full of activity, and simply awesome. The GoPro couldn't capture how amazing it was  underwater. The reef was teeming with sea life and colors.
We enjoyed our packed lunch on the beach and as the sun came around, we absorbed the afternoon rays and Caribbean breeze.
Our time expired and we needed to head back to our villa. It was already 4:30pm and we spent most of the day at Malcolm's Beach—not a bad thing. When we finally made it back to our place we unpacked from our beach day, then made a quick trip to the Wine Authority and the grocery store to restock a few things.
An entire place dedicated to Conch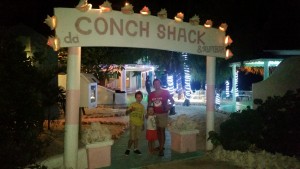 For dinner, we wanted to try da Conch Shack in the Blue Hills part of the island. I thought it was going to be really busy because it was Saturday night, but it ended up being really mellow. It was the only place I've eaten where our table was "on the beach" and in the sand. Our food was delicious: Cracked conch, curried conch, and conch fritters. The rum punch earned it's "infamous" label—Jan has a good recipe.
While dinner was great, the complete day was even better. We couldn't have pieced it together any better way. Enjoy the video and pictures from our adventures both on the beach and in the water.
GoPro Video from Malcolm's Beach
Pictures from Malcolm's Beach
GoPro Pictures from Malcolm's Beach