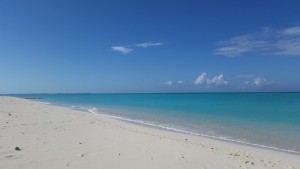 Our day was off to a slow start. We decided to do some prepping for the rest of the week and cranked up the grill to cook some chicken, burgers, and veggie burgers, as well as prep other food for the remainder of the week. After that, we were off to the beach. First stop, North East part of the island called Leeward.
Island Time: Friday, December 18, 2015
Merri Beth, Zander, Coco, and I were at an isolated beach, only a few other people in sight and a few folks that walked by. We decided to break in our snorkel gear and explore the water. The water was blue, the sun was shining, and we were enjoying the breeze from the tradewinds. Unfortunately, a few rain drops ahead of a thunderstorm spoiled our afternoon (at this location). We packed up our things and started to explore other parts of the island, like Long Bay Beach.
We didn't get back on the beach today because of Coco's nap time—she was passed out in her car seat. As an adhoc plan B, we enjoyed seeing new parts of the island from the car.
After driving around a bit, we went back to our villa. MB took a quick power nap while Zander, Coco, and I explored the canal at our place—there is a large water trampoline connected to the dock. After that, it was time for happy hour and dinner at Sharkbite's.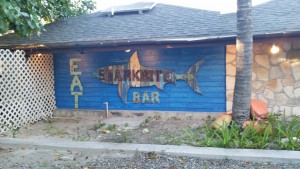 We arrived at Sharkbite Bar as the sun was retiring to the west. The family selected a table out on the dock overlooking the marina. Merri Beth and I ordered a few happy hour drinks while the kids got some frozen virgin selections from the blender.
For dinner, we were in the mood for more local cuisine. Zander tried the Conch Sandwich, MB had the curried fish tacos, and I had the blackened Grouper. The restaurant started to fill in and was getting vibrant for the live music on Friday night. We enjoyed seeing a few boats return from their day on the water and some fish swimming near the dock . Our meal was pretty good too. Not a bad way to end our first day on the island.