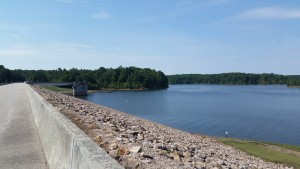 If you follow my activity on Map My Ride, then you know I've been doing some long rides this summer exploring Raleigh's Greenway system. If not, then you might like to see that on Sunday, August 23, I decided to check out the Falls Lake Dam along with some new greenway segments.
I started near Anderson Point Park in East Raleigh near mile marker 17. I had 17 miles to ride—upstream—to get to Falls Lake. The weather was amazing, 78º with southerly winds and low humidity. Perfect for riding! It took me about an hour and twenty minutes to reach Falls Lake. Once I arrived, it was nice to take a break and enjoy the scenery.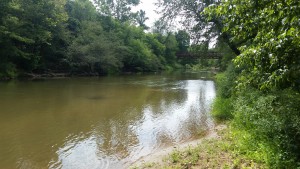 On the way back, I decided to take it easy and check out some of the spots I saw on the way up, like near mile marker 6 where there is a nice access to the Neuse River via a sandy bank. And there are a number of bridges with some breathtaking views that are worth a stop for a few moments—just take it in.
All-in-all, a great ride netting almost 38 miles and new greenway portions north of Horseshoe Farm Park under my belt.
Pictures from the Neuse River Greenway and Falls Lake Dam