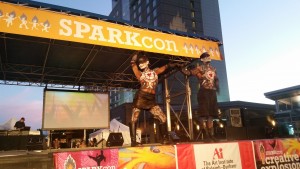 One of my favorite weekends of the year, SPARKcon weekend! It's four days of amazing creativity and performances coming to life in downtown Raleigh. After a long week at work, I was really looking forward to relaxing on Friday night with my SPARKcon friends.
Merri Beth and I took a cruise down Fayetteville Street to see some of the activities. Lots of things were still getting set-up, but the "circus" was in town. We saw some of the circusSPARK performers marching in the circus parade from Martin Street to City Plaza.
We settled into our front row seats for the circusSPARK fashion show and variety showcase. I donate to the IndieGoGo campaign every year to support SPARKcon and get VIP seats for Friday evening activities. Check out the pictures below to see some of the highlights from both shows.
MB and I grabbed some dinner at Busy Bee, then did a drive by of the circusSPARK fire conclave before heading over to Kings. It was time to see some live music compliments of musicSPARK. We enjoyed performances from Jaded Vocals, Zen Groove Arkest, and Rissi Palmer. A few friends joined us at Kings, and lots of the SPARKcon organizers (bobbleheads) were there to see the fruits of their labor.
Pictures
Videos