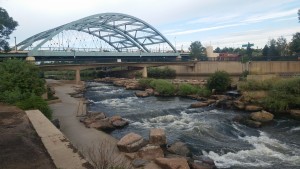 Wow the weekend goes by quick when you're having fun. Merri Beth and I were ready for another full day in Colorado. The highlight of the trip—and entire reason for coming—was to go to the Jason Aldean & Kenny Chesney concert on Saturday night. But first, more exploring the fantastic brew scene.
I was up early again for a run. I decided to explore the area around Mile High Stadium and ended up running about 5 miles. My run today was much improved from yesterday. I'm not saying I was acclimated to the high altitude, but it was a little easier this morning.
We decided to head up to Boulder, Colorado to check out the scene and try some new breweries. Merri Beth had been researching different places all morning and put together quite the game plan. Our first stop was just north of Boulder at Avery Brewing.
As we pulled up to Avery, the facility looked amazing and brand new. They opened at 11:00 am and the idea was to get some lunch and then start a tasting. Our plans were somewhat spoiled because Avery was closed in preparation for their four year anniversary party. While we were disappointed, it's great that they have such a strong tenure and will be celebrating—unfortunately, we can't join the fun.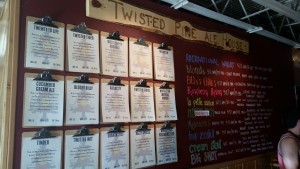 We made an audible and headed back into Boulder. Some quick research for somewhere open for lunch lead us to Twisted Pine Brewing. Really cool pub scene, neat logo, and good beers. Lunch was fantastic. I got a Greek salad and a Mexican-style pizza. MB had a chicken wrap. We each selected five beers to try and sampled each others flight. Content with lunch and our first tasting of the day, we headed to our next stop.
Nestled in their own roundabout in an industrial park-like setting, Boulder Beer boasts being the first craft brewery in Colorado starting in 1979. We got a table outside and ordered a flight to share. To our surprise, their flight has 13 samplers. Wow! That was a little more than we thought and agreed that it was OK to not finish all of them before we even started.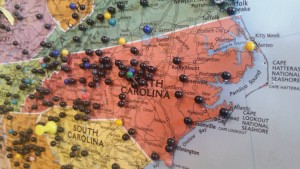 The weather was gorgeous and it was getting a little warm out. MB and I were under the shade of an umbrella at our table, sipping on few beers. There were some that we liked and others that were OK. After tasting the full gamut, we decided which ones we wanted to pass on and which ones were good to go.  Boulder Brewery has a pretty decent pub menu to accompany their beers, but we just had lunch so no need to get additional food right now.
Our time was going by quickly and it was already 2:00 in the afternoon. We knew we had time to head to at least one more brewery and thought we'd have time squeeze in two. MB drove us back towards Denver while I navigated us to the next beer station orbiting near Louisville, Colorado.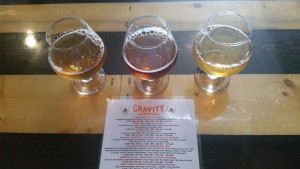 Our third brewery was Gravity Brewing. A long list of beers to consider and they all looked delicious. MB and I decided on three samples each and shared accordingly. My Untappd app is getting quite the workout here in Colorado and I surpassed 500 unique beers at out last tasting. The beers at Gravity were top-notch and some of the best beers of the day. It looks like they have a one-year anniversary party coming up in September. It was cool to chat with the bartender for a while and learn more about Gravity. Pro tip: Gravity has homemade root beer and ginger soda, so bring the kids!
With time expiring before we needed to head back to Denver to go to the concert, we had time for one more brewery. I navigated us to Nighthawk Brewery, located just off the Denver-Boulder turnpike. MB and I found two seats at the bar and flew right into a full flight of beers. There were seven different styles to taste from and we shared the flight together. We found a few beers that we liked and only a few that didn't please our palate.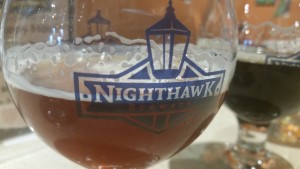 And that's a wrap for this afternoon. We definitely enjoyed exploring and tasting at all the different breweries today. There are so many to choose from, each with their own styles and themes. One that is on our radar for next time is Caution Brewing. So if you have any Colorado favorites, let us know in the comments.
We made it back to Denver in about 30 minutes and didn't hit too much traffic. We thought there might be some concert traffic so I navigated us on a route that would hopefully minimize concert goers. That  decision seemed to work out. We freshened up in the hotel room, grabbed our tickets, and waited for the hotel shuttle to take us to Mile High Stadium.
Kenny Chesney and The Big Revival

The shuttle was full of people heading to the Jason Aldean & Kenny Chesney concert. We were dropped off near the stadium and then started walking around to check out the tailgating scene and try to sell an extra ticket that we had. After doing two laps around Mile High we had no luck in dumping the ticket. But there was some amazing people watching going down.
Time to head into the stadium and see the show. By the time we got to our seats in section 122,  one of the opening acts had already started. Brantley Gilbert was rocking the stage and setting the tone for the rest of the night.
After a brief intermission, Jason Aldean took the stage and started to play his sets. His band played for about 90 minutes. While I don't know many (read: any) of his music, Merri Beth was having a blast and getting into it. The two girls next to me seemed to know every word to every song and they were totally digging the show.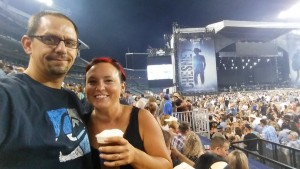 After a few songs I decided to go find some dinner for us hoping the lines wouldn't be long. They weren't! I grabbed us a couple of beers and burgers—a cheddar and bacon burger for MB and I settled on a garden burger. The healthy options were limited but we needed some food.
Jason Aldean put on a great show and got the crowd ready for the main performance of the night, Kenny Chesney.
The stage was being set for a 9:00 pm start. And a few minutes after nine, a video introduction welcoming everyone to the show started. The stadium was packed for Kenny Chesney and the crowd was alive with excitement. I could tell immediately that Chesney feeds off the crowds energy and I could tell he genuinely loves performing and playing music—more so than many of the concerts I've been to. You could tell by his gratitude and see it in his facial expressions. It helped that there were gigantic screens plastering the stage.
The crowd participation was amazing. I definitely see a connection in the type of work that I do as a community manager and how bringing people together for a common purpose is extremely powerful. A rock concert isn't quite the same as nuturing a community of purpose, but I have some thoughts brewing here.
[yframe url='https://www.youtube.com/watch?v=cTO8Db7pSbM ']
Merri Beth was having an absolute, phenomenal time. I at least knew a few songs by Chesney and could sing a long at times. I really enjoyed a song where the female bass player took to the microphone to play an AC/DC cover, Whole Lotta Rosie. Great voice and a fun song.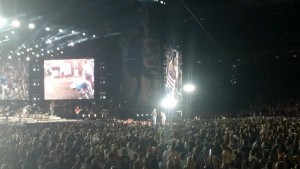 Another highlight included a Denver Broncos helmet giveaway to one lucky fan after Chesney played Boys of Fall—he's a huge sports fan in case you didn't know and even mentioned spending time at the Denver Broncos camp this morning. The girl who received the helmet was very emotional as Chesney brought her on stage. She was overcome with joy—it was a great feeling for the entire stadium.
The encore took a turn towards rock and roll. Hurt So Good and Summer of 69 filled the airwaves resonating from the stage. And the show was over. Wow. Great show. Great performance. Totally worth the trip to Denver.
Merri Beth and I walked off the concert high (no not that one) back toward our hotel. A few other concert-goers joined us on the Platte River trail heading back towards northern downtown. This is the trail I've been running on in the mornings so I was very familiar with where to go.
On the way back, we stopped at Forest Room 5 for a night cap. The bar was pretty hipster. I got an IPA and MB got a glass of wine. We took in the scene, finished our drinks, and got back to the hotel. We started packing up most of our stuff and got to bed. It was going to be an early morning with our flight leaving at 7:40 am heading back to Raleigh.
On tap: Early flight and we get to see our kids in the afternoon.
Colorado Breweries and No Shoes Nation