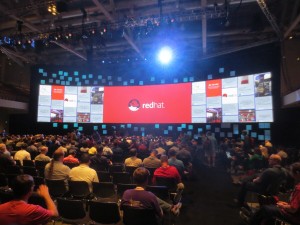 It was a packed day as we headed into day two of DevNation and the kickoff of Red Hat Summit in the evening. I had a full day of sessions, including three amazing keynotes, a book signing for The Foundation for an Open Source City, and a dinner with the winners of Red Hat's Women in Technology Award.
I was up early again with a lap around the Charles River, a shorter running route than yesterday, but I had a busy day ahead of me. After some breakfast, I headed over to the Hynes Convention center to get the day started with DevNation.
First up was Felix Ehm from CERN with his keynote titled Running CERN's Accelerator Control System using open source software. Felix gave us an overview of what CERN does, how they selection their open source software, and a few examples of their open source apps. Watch the keynote and geek out with CERN.
Next was a panel about DevOps in a container world. Some interesting talk about how containers are influencing the DevOps movement. One of the questions was "Do we need containers in order to do DevOps?" Langdon White says no, but…the model is right.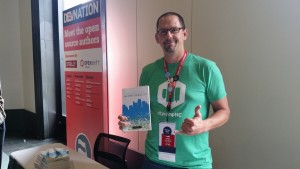 One of the highlights of my day was a book signing for The Foundation for an Open Source City. We had about 20 books to give away, and they went quickly! There was a line down the hallway and I got to meet some great people who are interested in open government and civic hacking.
I grabbed some lunch and then it was time for a difficult conversation. Brianna Wu was at DevNation to talk about 9 ways to stop hurting and start helping women in tech. I'm torn on how I feel about it. On the one-hand, I think it's great that we are working toward having more women in tech and creating a collaborative, safe environment for all of us in technology. On the other hand, I think its sad that we need to have this conversation. We, as humans, should be better than this.
It was a GREAT talk by Brianna that is a must watch. She started off with asking everyone to show some basic human sensitivity. Let's start there.
The rest of the afternoon was a blur. I take a little bit of a break and stopped by The Open Organization book store to make sure they got the signage I shipped and gave them some stickers to hand out. The store opened at 3:00 pm and Jim Whitehurst is signing books at 8:00 pm after the opening keynotes.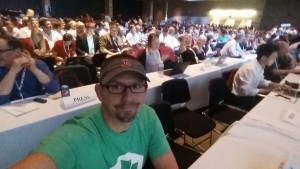 At 4:00 pm, it was time for the always entertaining Middleware keynote. Live demos on stage, this year, with an Internet of Things (IoT) flavor. They handed out little bluetooth beacons to DevNation attendees (who opted in) to track their movements at certain areas of the convention center.
On stage were some of the key players from OpenShift and Red Hat Mobile Application platform, including Burr Sutter. They deployed the mobile application platform on OpenShift, created a mobile app, and spun up over 1,000 containers. Amazing.
The Red Hat Partner pavilion was unveiled and happy hour was in full effect. There are almost 100 partners participating this year and the pavilion was packed!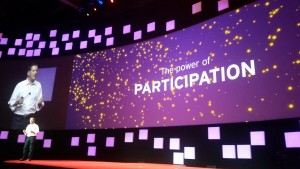 The last part of the official agenda were the opening keynotes. I always look forward to hearing Jim Whitehurst talk. As things got kicked off, it was a pleasant surprise to have Thomas Cameron as the emcee for the evening.
Jim's talk was great. Inspirational, thought-provoking, and a pep-rally of sorts. I was live-tweeting for @OpenOrgBook getting all the good snippets into the Twitterverse. One of the great inspiring moments was when Jim talked about the power of participation. But the real message was about 21st century innovation being decentralized, open, collaborative, modular, and user-driven.
After Jim's keynote, he had a scheduled book signing at the Harvard Business Review book store for The Open Organization. There must have been a line of 80+ people by the time I got there.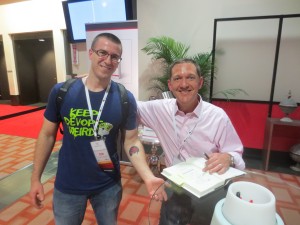 I was really stoked to see Adam Miller, who has a story in the book, get his book signed by Jim. As I was listening in, there were people from all over the world getting their books signed. Some from Red Hat, some from Red Hat partners, and many customers and community members are buying the book.
Almost running to the room to drop my bag, I got an Uber to the financial district to attend the Red Hat Women in Technology Award dinner. I was a judge for the award and invited to dinner at Serafina. Great dinner with some great people and congratulations to Sarah Sharp and Kesha Shah.
Open source city book signing at DevNation
DevNation and Red Hat Summit
The Open Organization
More on day three when I get a chance!