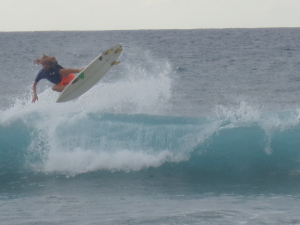 It was another good day of surf in Rincon, leftovers from the big swell were still coming in. Spring Break was in full effect and I was up early and in the water before 7:30 am. The rest of the day had more in store for us, including a trip to the Rincon Beer Company.
Sunday, March 22, 2015
More surf, sun, and fun in Rincon
The morning surf was cranking at Domes Beach. The surf was still head high and coming in steady. I was in the water for over 90 minutes with a good crowd of folks. Everyone was catching good, quality waves. By the time I caught my last wave, the crowd was growing and the tide was dropping. Time to head back to the condo and catch up with the family.
It was a rough morning for Merri Beth and I after my surf session. We've been making Zander do reading and writing while on vacation and he was struggling with his journal entry today. We gave him some corrections to make on his entry and he wanted to complain about having to re-write it. We wasted a lot of our morning time arguing over his work—or lack thereof.
For lunch we walked down the street to an amazing place called Carta Buena. Totally local and healthy, just what we've been looking for. We each got a smoothie and a lunch item. MB got the Q-bowl (quinoa bowl) and I got a kale and avocado salad.
We drank our smoothies there and took our salads to go. The food was delicious, definitely somewhere I would go back to (again and again). The folks running the Carta Buena operation definitely know what they are doing.
For the afternoon, it was back to Domes Beach for some surf. This time, I added the GoPro camera to my surfboard and gave it my best shot. For your viewing pleasure, over an hour and a half of surfing is summarized in about 5 minutes. Lots of paddling, duck diving, and of course, riding some waves!
Zander scores some waves
We made a pit stop back at the condo and then relocated to Maria's Beach. It was time to get Zander on some waves and the surf was smaller and more manageable for him at this break. He paddled out all on his own (probably about 150 yards) to the break and caught a few waves. He did a lot of paddling (I warned him) and got to see what "surf localism" is first-hand. According to Zander, some guy on a longboard jumped on another guy in the water and told the M-f-er to go home.
When Zander got safely out of the water, we watched the sunset and enjoyed the dwindling day on the beach, until it started to rain. We headed back to the condo and got ready to head out to dinner.
Rincon Beer Company
I was totally stoked for dinner. We headed to the Rincon Beer Company to sample some local brews. And their food was really good too! They only had a few items on their menu, but they prepare them really well. We enjoyed the roasted brussel sprouts with Manchego cheese as an appetizer. Zander and I had the fish tacos while Merri Beth had the Camarones a la diabla (shrimp diablo), but they were out of shrimp so we were able to substitute it with fresh tuna.
The local brews were delicious and we had a great time at the Rincon Beer Company. After we got back to the condo, MB and Zander headed off to bed and I watched some basketball. Looks like NC State will be playing Louisville in the Sweet 16.
Pictures from Domes Beach and Maria Beach