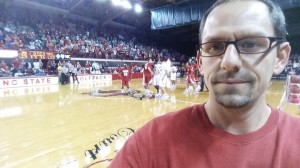 What an amazing night in Historic Reynolds Coliseum. I had the honor of being a guest coach for the NC State Wolfpack during the Alumni throwback game on October 17, 2014. Thanks to 99.9 The Fan, Adam Gold, and Joe Ovies, I was courtside with Wolfpack greats like Gugliotta, Monroe, Corchiani, Del Negro, Whittenburg, and Towe to name a few.
Merri Beth and I arrived at Reynolds Coliseum and got our courtside passes for the evening. We watched the end of the Wolfpack volleyball match and we were anxious for the NC State throwback game to begin. Unfortunately, MB had to hang back while I was a guest coach, but she was basically on the wing during the game.
I took my seat on the bench with current Wolfpack coaching staff under Coach Mark Gottfried and Wolfpack legends warming up to play in the NC State Wolfpack throwback game. It was 15 minutes of red versus white, history coming to life for those of us who missed 1974 and 1983.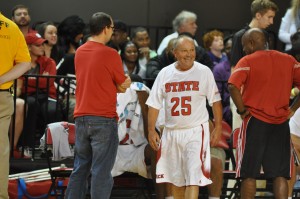 I was guest coaching the white team with Monte Towe and Rodney Monroe. These guys were amazing, played hard, and were really nice to talk to. To be honest, I wasn't exactly sure what I would be doing. Once I figured out my job was to cheer these guys on, it was game on and man-on-man defense all the way!
The white team won, if that even matters. I do remember out of all the players I talked to an interacted with, Julius Hodge was not pleasant. His attitude was very much, "I'm better than you" and he really wasn't personable to me and other fans. While Hodge is very "Go Pack" he's not very friendly in person. Too bad.
All the other alumni were amazing. I was able to get a t-shirt signed by Hawkeye Whitney, Tom Gugliotta, Rodney Monroe, Chris Corchiani, Todd Fuller, Vinny Del Negro, Dereck Whittenburg, and a few others. These NC State legends were happy to be back in Reynolds and nice to interact with on the bench. What a great experience for me as a guest basketball coach during the NC State alumni game.
Merri Beth joined me after the alumni game to watch the midnight scrimmage for the 2014-15 men's basketball team. We enjoyed our seats behind the bench as the game unfolded giving us and many other fans a preview to the upcoming basketball season. Adam and Joe added their commentary as necessary.
I'd like to say thank you to 99.9 The Fan for an amazing experience. I never thought that tweeting a picture of MB and I hanging with Torry Holt with the hashtag #ThrowbackWithThePack would win a contest and such a fun time with Wolfpack legends. Go Wolfpack!
Special thanks to Tomen Tse for getting some great pictures.