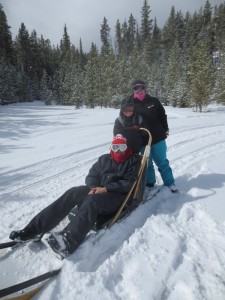 We woke up to several inches of snow on Monday, March 31. A winter storm had passed overnight and there was some fresh powder to play in today. Since we had been snowboarding all day yesterday, we wanted to change things up a bit. The family got ready for the day and headed south to Breckenridge. The roads had snow on them, so we were cautious and allowed extra travel time. Our first stop for the day was Good Times Adventures.
Zander didn't know where we were going or what we were doing. It was a complete surprise. It was a long, winding, snow-packed road to get to our destination. As were approached Good Times, Zander saw some people dog sledding. And he was really excited. Surprise!
We checked in and got ready to hit the trails with the dogs. We used snow boats that they provided since our rental boots were probably not a good fit for this activity. We got a chance to meet the dogs and our guide gave us the skinny on the sled and some instructions on going. We were paired up with another family and everyone was taking turns mushing the sled and riding.
When you're not riding or mushing the sled, your being pulled behind a snowmobile in a sleigh. The other family went first, then Zander and Merri Beth took a turn. Zander actually got to mush and MB was holding on for dear life, I mean, she was having the ride of her life.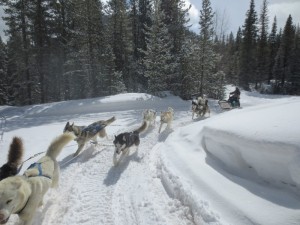 We continued to switch out mushing and riding. The trails were really fun and the scenery was magnificent. I got to mush on a fast trail and was amazed at how easy it was to control the sled. We were dog sledding for a solid 90 minutes. And it was worth every penny. What a fabulous time and unique activity to do.
We were eager to get some of that fresh powder from last night under our feet. We decided to get a half day pass at Loveland since it was affordable and we didn't have much time on the slopes. On the way there, we stopped in Frisco to grab some lunch.
Frisco was a cute little western town that I wish we had more time to explore. We had lunch at a place called Ollie's Pub & Grub. The bar was decorated in Chicago sports apparel and memorabilia: Bears, Cubs, Blackhawks, Bulls, etc. Now that we were fueled up, we were ready to hit the slopes again.
We arrived at Loveland around 1:30 pm and had a few hours to snowboard. I purchased half-day passes at the ticket window and we were off to the races. Unfortunately, there were only two lifts open today because of all the snow from last night. The Loveland Basin was closed off (we believe it was for controlled avalanche preparation). We made the best of our day and got in a few runs on Zig-Zag.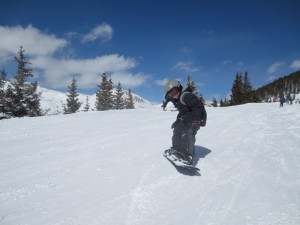 We were going pretty hard on the slopes and eventually tried our skill on some of the blue trails. We needed a break. A little after 3:00 pm we went to the lodge for some water and to catch our breath. It was 3:30 and I wanted to try to get in two more runs before the lifts closed. MB and Zander went over to All Smiles for a few runs while I went back to Zig-Zag and Switchback.
At this point, I was getting more confident in my snowboarding and was trying small airs and rotations. Nothing to write home about or compete against Shaun White with, but I was getting more comfortable with my board and the conditions. I made it up the lift and down in time to get one last run in. Even though I had a few wipeouts, I'm glad I was going outside my comfort zone to try new moves.
After snowboarding, we headed back to Silverthorne and returned our rental gear. We went back to our room and changed clothes, then headed out for Happy Hour. We wanted to try a few different places on our last night here and began exploring.
Our first stop was Arapahoe Cafe. Technically, it was the Pub Down Under. It was a neat little place with a fun atmosphere. It felt like a lot of locals were there and the food smelled good. We had a beer and headed on to the next place.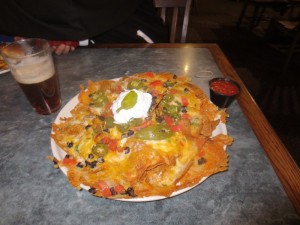 We headed across the street to Pug Ryans Brewing Company. Merri Beth and I got a sampler and a pint. Zander scored a root beer and we enjoyed some calamari. This place was hoping and the menu had lots of interesting items on it. MB and I weren't ready to eat, but Zander was getting hungry.
Our final stop was back at the Dillon Dam Brewery. We had a great time the other evening and decided to come back. Merri Beth and I enjoyed a pint with some monster nachos, while Zander got some dinner. That was all we time for and we needed to get some rest. We've done a lot the last three days and have thoroughly enjoyed our time in the Rockies.
Pictures
Dog Sledding Videos
[yframe url='http://youtu.be/o8HEdMIc3bY']
[yframe url='http://youtu.be/-pRHjBTpGMs']