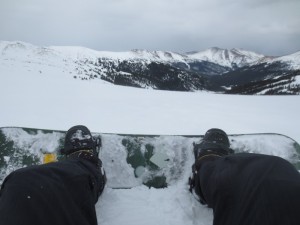 Another full day of snowboarding was on tap for Sunday, March 30. We had a blast at Copper Mountain yesterday. First we needed some gear, then some lift tickets. We hit up the Pioneer Sports store that was conveniently located in our hotel. Snowboard packages were $32 a day and included boots, board, and bindings. Rental gear: check. Next, we printed out lift tickets to Loveland ski area at the kiosk, also conveniently located in the hotel lobby. Discounted lift tickets were $56 for adults and $25 for children. Lift tickets: check.
It was a short drive from Silverthorne to Loveland ski area. We went through this huge tunnel on our way to Loveland, located in the Arapahoe National Forest. We parked the car and got our gear on. The weather wasn't as sunny as yesterday, but still great to be on the slopes.
The first part of the day was spent in Loveland Valley. This area is geared towards beginners and has some shorter runs compared to Loveland Basin. We all started off on the All Smiles and Take Off trails. Good for warming up. Merri Beth was getting a little frustrated with the snowboard and decided to head back to trade in her equipment for some snow blades. While she did that, Zander and I went over to the other lift and explored some of the runs.
Ski lift #3 would take you all the way to the top where you can choose from several trails, a few blue trails (Switchback, Twist, and Double Dip) and a green trail, Zig-Zag, that connected to Boomerang further down. The ski lift would also let you off just under halfway where you ride lower Zig-Zag, Boomerang, and lower Switchback. Zander and I tried out lower Zig-Zag and had some fun.
Then we decided to go all the way to the top and take Zig-Zag all the way down. It was fun, but a little icy and a little narrow. I think it just felt narrow because of the trees on each side with some drop-offs. Zander went down like a champ, taking it nice and easy. Merri Beth was finally back and we showed her some of the trails on lift #3.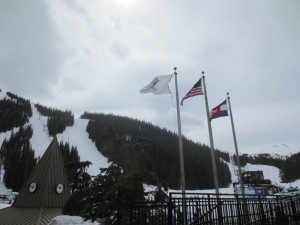 It was time for lunch. We went over to Loveland Basin which has a ton of trails and ate at the ski lodge. We were also resting our legs and hydrating as much as we could. With full bellies and lots of water, we got our gear back on and started to explore the basin.
Our first few runs included Turtle Creek and Tango Road—green trails that were nice and easy. Then we got adventurous and took ski life #2 to ski lift #6. The view up top was amazing. It was also pretty windy. We went down a green trail called Deuces Wild. Again, we were all taking it nice and slow going down. We connected into South Turtle Creek and then the trails at the bottom that we were already familiar with.
At that point, Merri Beth and Zander stuck to the lower trails and I kept exploring. I went back to the top to hit up Deuces Wild again. Then I tool chair lift #2 all the way to the top. Another amazing view and the wind was really picking up as a winter storm was approaching. I went down Fire Bowl then had options to connect into Firecut and Drifter (blue trails) or North Turtle Creek and South Turtle Creek (green trails).
I stayed here for a while, getting back on the lift about halfway down. I got in a few runs before the lifts closed at 4:00 pm. I met Zander and MB at the lodge after a full run, which according to the sign on the lift, was about two miles.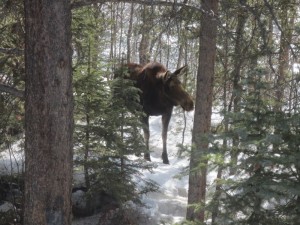 We were exhausted! After snowboarding all day, we went back to Silverthorne and relaxed. After checking out a few stores, we took a break along Willow Creek. The area has a bike path along the creek and we happened to stumble upon a moose. It was just chilling there along the creek. We can't believe that we saw a moose, in the middle of Silverthorne.
There was some winter weather coming in and we wanted to be settled in before it started to snow. We relaxed in the hotel room for a while, then Zander and I ventured out to get some take-out food for dinner. As we headed out, the snow started to fall. We enjoyed our mini-adventure to Chipotle and back, then had dinner in the room before we settled in for the night.