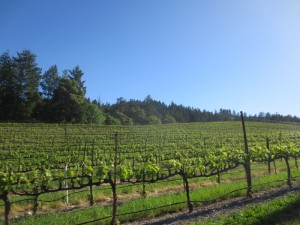 After arriving in San Francisco, California, on Friday, April 11,  it was about an hour drive to American Canyon—our base camp for the weekend. Merri Beth and I were finally getting a chance to explore Napa Valley and we were super excited.
I was flying in from Denver and landed in SFO around 9:05pm. Merri Beth had a direct flight from Raleigh and landed around 9:25pm. We collected our bags and made our way to the rental car location at SFO. The line was outrageous and the wait was about an hour. We finally got our Mazda 6 with Oregon tags and were on our way to American Canyon.
After a late night, we slept in and got ready for the day. I got in a quick four mile run while Merri Beth got in a workout. We grabbed a late breakfast at Whole Foods in the City of Napa, then began planning our day at the Napa Valley Visitor Center on Main Street. We came with no plans but to explore, enjoy, and live life.
We started to notice many of the wineries that we were familiar with, but a few stuck out. So we set out on an adventure. Our day began on the Silverado Trail heading north. Our first stop was Stag's Leap Wine Cellars. Our intention was to do a drive-by and check it out, but we ended up doing a tasting.
Merri Beth and I split a tasting. And it was amazing. Our wines included 2011 Sauvignon Blanc, 2012 Arcadia Vineryard Chardonnay, 2010 FAY Cabernet Sauvignon, 2010 S.L.V. Cabernet Sauvignon, and the 2010 CASK 23 Cabernet Sauvignon. Our server was fun, knowledgeable, and spunky. We even scored a taste of the FAY Apologue. All of the wines were delicious, but the S.L.V. Cabernet Sauvignon was our favorite at Stags Leap.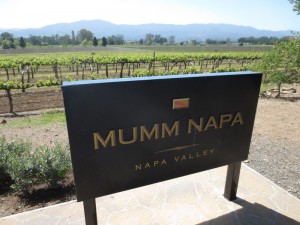 We continued on the Silverado Trail and couldn't stop noticing how green, lush, and beautiful it was. Everywhere you looked, it was just amazing. We stopped by Mumm Napa (should have started there) and the scene was vibrant. Next time we're in Napa, this is going to be the go-to place to start off the day. Our next stop was Quintessa. I've had a few of their wines and no complaints. We just drove by and soaked in the beauty.
I was just enjoying a glass of Conn Creek a few weeks ago and there they were, part of our journey in Napa Valley. We took note for next time. Then we saw Frog's Leap—reservations only. Still a cool spot to check out. So we stopped by for a photo opp.
Then it was time for our second tasting: Caymus and the Wagner family of wines. Oh my goodness, what a great place to visit. After wandering around and taking in the scene for a few minutes, we scored a sweet spot under the trellis. Our flight included the 2012 Reserve Chardonnay, 2012 Pinot Noir Clark & Telephone, 2012 Zinfandel, 2011 Merlot, and the 2011 Special Selection. We took it slow, but enjoyed every sip. The roses and other flowers in the gardens were fragrant and reminded us of Hawaii.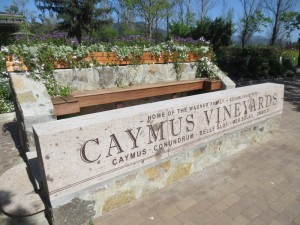 After our visit to Caymus, we grabbed a late lunch at La Luna Market & Taqueria. Authentic and yummy. It hit the spot. Then it was north on 29 to see a few more vineyards. Our first trap was Castello di Amorosa. Lots of tourist and busy as hell. Cool to see a castle (yes, a legit castle), but we would have preferred to see it earlier in the day next time.
We hit the northern most point of the day and got in a quick visit to Chateau Montelena. Merri Beth was stoked to see it. They were closed by the time we arrived, so we didn't get a chance to do a tasting. What a cool spot though to visit, and with historical significance.
Our last spot was Louis M Martini. We sampled a few wines before we headed back to Napa for dinner with friends. Thai food was on the agenda and we enjoyed a fabulous dinner at Mini Mango Thai Bistro. After dinner, Merri Beth and I said good bye to our friends and walked around Napa for a while. It was a beautiful evening and it was a great way to end our day of exploring in Napa Valley.