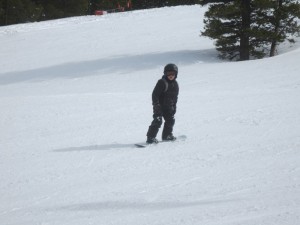 Let Spring Break begin! Merri Beth, Zander, and I were at RDU airport on Friday, March 28 heading to Denver, Colorado. We had a direct flight on Southwest Airlines that left at 5:00 pm ET and arrived by 7:00 pm MT. Our plan was to get some snowboarding in this weekend. Meanwhile, Coco and the dogs would be enjoying Spring Break at the farm with Jim and Beth.
After arriving at the Denver International Airport, we got our bags, a rental car, and headed west and made a pitstop for dinner in Golden, CO. We ate at a place called Blue Canyon Bar & Grille, watched some of the NCAA tournament and enjoyed our food. We had about an hour drive before we arrived in Silverthorne—which would be basecamp for the next few days.
Saturday, March 29 | Copper Mountain
We were up and ready to hit the slopes today. We grabbed some breakfast at the hotel and headed to Copper Mountain. Merri Beth had booked snowboarding lessons for all of us. Zander's lesson started at 9:30 am while ours started at 10:00 am. Merri Beth got Zander settled in while I parked the car and hopped on the shuttle back to the west village.
We got our board rentals and met our instructors for the day. MB basically got a private lesson on the beginners track because she was the only person in her class. I had one other person on the intermediate class until 12:30. Then after lunch, I had some one-on-one instruction.
Merri Beth enjoyed her class and learned the basic snowboarding moves. I was able to sharpen some of my skills by working on my carving, getting more flexible, and did a little switch stance by the end of the day.
After our classes were over, Zander and I hit up a few runs before the ski lifts closed for the day. He was doing great for his first day on a snowboard. We returned our gear, took the shuttle back to the Alpine lot, and enjoyed the scenic ride back to Silverthorne. In fact, we stopped at a scenic overlook to take in the view.
Copper Mountain was a blast. I'm really glad we decided to start our snowboarding adventures there. I was stoked on my lessons and so were MB and Zander. Even though it was Saturday, it wasn't too busy, the lines for the ski lifts weren't long, and the slopes were pristine. The only downside, we forgot to put on sunscreen so Zander has a red beard, MB has raccoon eyes, and I'm burned from my eyes to my neck line.
Back in Silverthorne, we were exhausted from the day. We ate dinner at Dillon Dam Brewery. The brews were tasty and the food was delicious. We did have to wait 45 minutes for a table, but it was worth it. Before calling it a night, we hit up Target for some provisions and hotel room snacks. Before going to bed, everybody did some stretches and drank some water. We're going to be sore tomorrow.