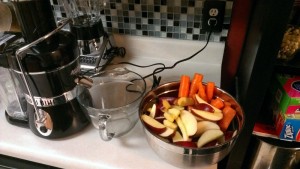 Merri Beth and I have been transitioning to a more healthy diet since September 2013. Not a diet in the temporary sense, but a diet as in our default way of eating. I got really sick on Labor Day weekend with strep throat and I was desperate for anything to help me out. In my searching, I discovered a documentary called Hungry for Change. I watched in on Netflix and was immediately motivated. My biggest take-away: we eat too much processed food and way too much sugar. But how can we change?
I started reading a book called Eat to Live. And then I found myself reading food labels, seeing how much sugar was in the foods we were eating. Trying to understand some of the ingredients I can't pronounce. Why does ketchup have high fructose corn syrup in it, isn't it just supposed to be tomatoes? And MSG is everywhere too. It's just got 40 different variations such as whey protein isolate, yeast extract, and hydrolyzed protein. Those don't sound very natural at all. They're added to food to make them taste better.
We decided to do a reboot. Just like when your computer freezes, you hold down the power button to get it going again. We're trying a 10-day reboot with Joe. I also watched his amazing story on Netflix: Fat, Sick, & Nearly Dead. So what is a reboot? Joe explains:
A period of time where you commit to drinking and eating only fruit and vegetables, herbal teas, and water in order to regain or sustain your vitality, lose weight, and kick-start healthy habits that recharge your body and get your diet back in alignment for optimal wellness.
Wednesday, January 8th was our first day on the reboot and it went great. We're following a 10-day plan that involves eating and juicing (the plan is free by the way). The carrot, apple, ginger juice was amazing. I discovered I'm not a big fan of kale. Pluses from day one, the food was great and I wasn't hungry. The only drawback is spending lots of time in the kitchen preparing our food and food for the kids. Luckily, Zander is curious about what we're doing.
Why are we doing this? Personally, I want to improve my running, biking, surfing, and other outdoor activities. And I've noticed in our transition, as we would incorporate new foods, I felt better and had more energy. I had my best half marathon time ever in mid November and I want to beat that time this year. In fact, I'd like to break 1 hour and 40 minutes. I'm going to achieve this goal by losing a few pounds and eating higher nutrient foods.
Some of my progress
Over the last four months, we've started introducing new foods to our diet. This includes more fruits and vegetables, less bread, and less meat. One of my favorites recipes is the "drink your greens smoothie" which has spinach, blueberries, pomegranate juice, almond milk or coconut milk, and a banana. Sounds gross right? It's high in nutrients and really good.
One important thing to note, I'm not calorie counting to lose wait. I'm more focused on getting higher nutrient foods into my body without supplements. I'm also eager to have a more balanced diet with more natural foods.
I experimented with being pescatarian in November during the work week for almost the entire month which was really fun. I did have a little bit of turkey on Thanksgiving though, but otherwise stuck with the plan. It was easier than I thought, particularly the eating out part. My brain was wired to look at burgers and sandwiches for lunch, now it's just salads and seafood.
One change that was tough, was to cut out soda from my diet. I used to drink 2-3 Diet Mountain Dews a day. After Labor Day weekend, that stopped. And to be honest, I haven't missed the caffeine. (I don't drink coffee either.)
Then we got a Vitamix blender. This thing is magic and helps us make awesome smoothies and soups. There so much more we have to discover with this addition to our kitchen.
For Christmas, we got a juicer. We've been reading a lot about juicing and we were looking to do a 3-day juicing cleanse over the holiday break after our vacation. After some more research, we hesitated to delve into that. While we still may do all juice cleanse, we opted for the 10-day reboot that has food and juice.
Finally, we cleaned out our kitchen. Over the holiday break we got rid of a lot of pre-processed, boxed foods. We threw away candy (except for the Ghirardelli chocolates). And we make sure we have plenty of space for fresh fruits and vegetables.
And in the spirit of open source, I'll gladly share my stats. I'm 5'11" and my starting numbers on day one were: 189 pounds, 23% body fat. I'll check back in over the next couple of days to update you on my progress.