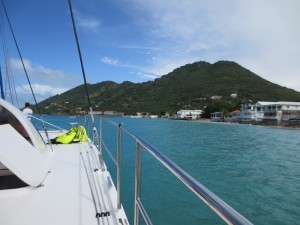 Our last full day on St. Martin was going to be awesome, no matter what. Rain or shine, we wanted to go out with a bang. So we signed up for a catamaran tour around the island with Eagle Tours.
The shuttle picked us up a little after 8:00 am and took us Philipsburg for our island tour. We boarded the catamaran and enjoyed the view of the south side of the island as we started the day.
Coco was enjoying the trip and fell asleep to the rolling swells of the Caribbean Sea. We passed Fort Amsterdam, Simpson Bay, Mullet Bay, and finally made the turn where things started to get a little rough. After a short pitstop where we were able to swim and get off the boat, the captain warned us that things might get a little wet and breezy as we sailed into the wind and swell from the west side of the island to the north side.
It was only a matter of time before the cargo nets on the front of the catamaran were getting filled with ocean spray and people where getting "popped" up and down by the swells. Merri Beth and Coco were fine for a while, but eventually had to move to the back of the boat.
We enjoyed wonderful views on St. Martin and eventually anchored at Croele Rock for snorkeling. Zander and I jumped in the water, fought the stiff current, and explored the coral life under the water surface.
We took the short trip from Creole Rock across Grand Case Bay for lunch at Calmos Cafe where we were looking forward to a three course meal. Merri Beth and Coco took the dingy ride from the boat to the dock while Zander and I made the short swim to shore. Lunch was delicious. We had salad, Mahi Mahi with rice, and ice cream. It started to rain while we were dining, but it passed through and we returned to the boat.
On the way back to port, we had to batten down the hatches a bit. A huge storm was coming through and we made a brief stop in a cove to let the brunt of the rain and wind pass by. We didn't let the rain and cloudy day bring us down and we made the best of the boat trip. As we came back into port, we had a champagne toast to celebrate the day. No sunset this evening as our trip was cut a little short due to the weather. We had a great time, despite the rain, and Zander and Coco were on their best behavior.