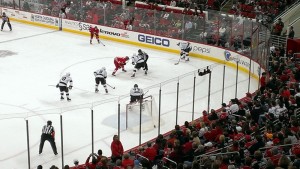 One of the items on my fall bucket list was to go to a Carolina Hurricanes game. Since making the list, I've been to two games and I'm going to the game tonight! The first game was on Friday, October 11 against the LA Kings. It was a total sports weekend for my family. My mom was in town and we took her to the Canes game on Friday, then the Syracuse at NC State football game on Saturday. But this bucket list item is about the frozen puck, not the pigskin.
The Kings put up a pretty tough game, but it was scoreless for the first two periods and most of the third. LA scored first, but less than a minute later, the Canes tied the game at 1-1. The game ended in a shoot-out, with the Kings scoring on the second attempt and the Canes coming up empty. Read more about the game: Canes Snag Point in Shootout Loss.
The second game I went to was on Tuesday, November 5 against the Philadelphia Flyers. The game was a stalemate for the first 55 minutes. Scoreless through the first two periods and late into the third. Then, each team scored a goal. The Flyers found the net first, then with less than a minute left in the game, the Canes tied the game. The teams went to overtime.
There was definitely some excitement in the PNC Arena as the teams prepared for the extra period. The game went back and forth for the first few minutes, but the Canes found the net first and came away with the win after a game that was dominated by both goalies. Read more about the game: Canes Score Late Goal, Win it in OT.
With the Canes off to a slow start, tickets seem to be readily available. There are ticket specials for family nights, college students, military appreciation, teacher discounts, and more.  Heads up, parking at the PNC Arena is a shocking $15.
Skate to CarolinaHurricanes.com for more information.