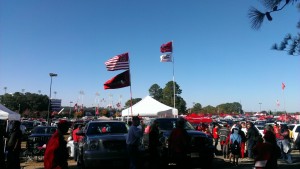 For anyone new moving to the Triangle, one of the first things you'll hear is that you need to pick a team. Whether your fancy is football, basketball, baseball, or some other college sport, fans in the Triangle almost require you to pledge your allegiance to either NC State, Duke, or Carolina. I graduated from State, so my allegiance comes with an earned degree. And I'll be the first to tell you that the tailgate scene at an NC State football game is one-of-a-kind.
This was an easy item to check off of my fall bucket list, because I'm a season ticket holder for Wolfpack football. But it's really about the experience, not the check box. This blog post about my bucket list includes two NC State games: the first game was against Syracuse and the second game was our arch rival, Carolina.
Welcome to the ACC Syracuse. Have a win on us! My mom was in town for the game and we surprised her last night by taking her to the Carolina Hurricanes game. The tailgate was great, the weather was awesome, and the game was pretty much owned by Syracuse. We had a great time at the game, but Syracuse won, 24-10, and the Wolfpack are still looking for their first ACC win.
Fast forward to November. It was homecoming and Carolina was in town. One of our arch rivals was looking to own "Our State." And they did. UNC terminated the Wolfpack 27-19.
With the kickoff at 12:30, we decided to enjoy some breakfast/brunch burritto's. The food at the tailgate was delicious. The after taste of the game, not so much. There is one home game left in the season, so if you want to experience Wolfpack football this year, tickets to the Maryland game on November 30th should be plentiful.
I made a bold prediction before the East Caroline game. I said that Raleigh will be purple and gold on the weekend of the 23rd. ECU will own Raleigh. And they did. And they won. And saying that "This is our State" is a tough pill to swallow after this season.