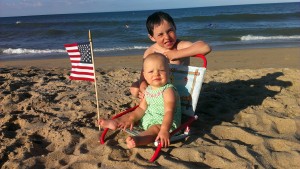 A beautiful Saturday on the Outer Banks. It's July 6, day eight for our week on the OBX. Happy Birthday to my sister, Katie, who turns the big three-oh! We had plans to beach it all day again, but we got something a little unexpected. 
First things first, today was Merri Beth's seven year anniversary at Red Hat. Congrats! Although it's not quite the Facebook birthday blow-up, it's a special day.
I made a quick stop at the recycle center again because we had a lot of cardboard from some house projects I was helping mom with. Once I got back, it was time to hit the beach. Again, we were on the beach before 10:00 am. We had the pick of our spot and scored a great location at Raleigh Avenue.
We had NY Bagel for breakfast at the house, but Zander slept in and ate his bagel on the beach. While he ate, I grabbed my board and caught a few waves. The water was a little chilly, but warmer than earlier in the week. I was able to sneak into a few good waves.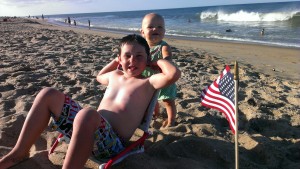 For the most part, we relaxed on the beach for the majority of the day. Zander was perfecting his skim boarding and boogie boarding skills. Coco was perfecting her napping on the beach skills, which is awesome.
Tony and Melissa joined us for a while. Tony and I caught a few waves and the water was still a wee-bit chilly. Some clouds moved in so we lost the warmth of the sun, but found a few good swells to ride while bearing the brisk ocean water. Melissa chatted with MB at our beach spot and enjoyed some time with Coco.
For lunch, we called ahead to Stop N Shop for sandwiches. Zander and I walked a few blocks from the beach access to get our lunch. When we arrived, it wasn't quite ready yet, and we waited a few minutes for everything to be prepared. Our sandwiches were finally ready, we paid, and walked back along the beach after a quick visit to see Nana at the Days Inn. Once we were got close to our beach spot, Zander and I saw Merri Beth and Coco playing in the breakers, so we joined them.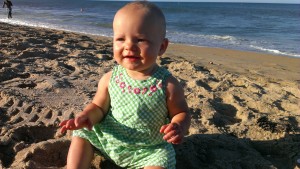 We enjoyed our lunch on the beach, then MB and I cracked a few beers. The ocean breeze was nice and we kicked back for the rest of the afternoon. The tide was coming in and the surf was getting bigger with the incoming tide. I helped Zander get into a few of the big kahuna's coming in—and he loved every one of them. Bouncing through the surf…holding on tight (for dear life even) and taking the waves all the way to shore.
Mom was working until 5:00 pm so I headed to the beach house to let the dogs our for a bit. Once I got back, we milked the rest of out time on the beach. We took some fun pictures with the kids and relaxed. We didn't leave the beach until after 6:30 pm. It was that nice.
Back at the beach house, I whipped up some taco salad for dinner. I cooked ground chuck with taco seasoning and sautéed some onions and peppers. We had all the fixings: tortilla chips, shredded cheese, sour cream, salsa, hot sauce, queso, lettuce, and fresh tomatoes.
After a few rounds of UNO, it was time to head to the sunset. We got the bikes ready and peddled down to Bay Drive and the sound. It was a gorgeous sunset, but the colors I was hoping for didn't come through. No worries, it was magnificent none-the-less.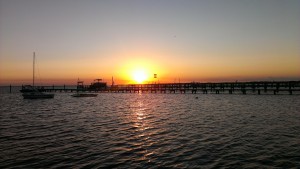 Our last full day on the beach was coming to an end. But after we got Zander to bed, MB, Coco, and I headed up to Duck, NC to see our friends at Elizabeth's Cafe.
Melissa and Deborah were still there and my buddy from high school, Matt Beacham, is waiting tables there for the summer. It was great to catch up with Matt and see what he's up to. We might bump into him at an NC State game later this year…you never know.
MB and I enjoyed a glass of wine at Elizabeth's and everyone had a blast seeing Coco. After our brief appearance in Duck, we realized our time on the OBX is expiring.
We have the tough decision on what to do tomorrow and how long to enjoy the day. We need to get back to Raleigh and get ready for the work week, but it's so hard to say goodbye to the paradise we've found in northeast North Carolina, a place I'm proud to call my hometown.