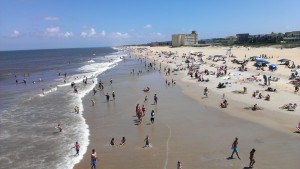 After two full days on the beach and an awesome evening of fireworks, it was time for a recovery day. Sort of. Welcome to day seven on the Outer Banks, Friday, July 5. We were going to be tourists today, and there's nothing wrong with that. On Monday, we did a day trip to Ocracoke and Hatteras Island, which was a great time despite the rain. It was time to check off a few of those attractions that you always drive by, but never go to. Today was our day.
Grave Digger & Weeping Radish
First, we headed to the recycle center in Kill Devil Hills. After a week at the beach, we had plenty of items to recycle. Then is was off to Currituck to visit Grave Digger. We drive Diggers Dungeon all the time, but never stop.
It was about a 30 minute drive from KDH through Kitty Hawk and back onto mainland North Carolina. After making our way through Harbinger, Powells Point, Jarvisburg, and Grandy we finally arrived in Poplar Branch where Digger Dungeon awaited our arrival.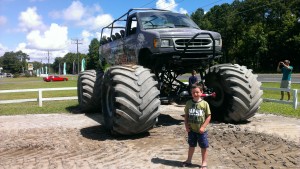 First, we meandered through some of the older Grave Diggers and other monster trucks on display outside. We peaked into the body shop to see what was being worked on. Then we headed into Diggers Dungeon and browsed some of the overpriced merchandise in the store. Then it was time to experience what it was like to ride in a monster truck.
The entire family, Merri Beth, Zander, Coco, and I, walked down the gravel road to the dirt track. It was $5 per person for a ride in the monster truck. MB and Zander were ready for the experience. Two laps was what they got and this is what it looked like:
[yframe url='http://www.youtube.com/watch?v=vUGYuQYdYUc']
After our visit to Grave Digger, we decided to grab some Bavarian-style lunch at the Weeping Radish. Many years ago, they used to be in Manteo, NC, but have since relocated to Currituck. The beer is still delicious and the food was great. MB got a black and blue burger and I got a fresh, house made Andouille sausage. We each got a sampler of their beer, which comes on a long wooden paddle. Yummy!
Historical note: Weeping Radish is the oldest brewery in North Carolina and has been in production since 1986.
Monument to a Century of Flight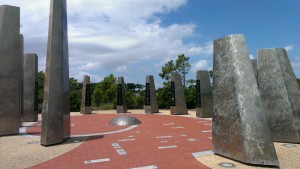 Back in Dare County, we made a pit stop at the Visitor Center in Kitty Hawk, near the Highway 158 and NC 12 split. We were interested in the Monument to a Century of Flight—which I have never been to before. We explored the monument and the history. We've come a long way since December 17, 1903. There is a time capsule buried that is supposed to be opened in 2103. Hopefully it won't require a submarine to locate the capsule in 100 years.
Jennette's Pier & Surfin' Spoon
Not on the original agenda for the day was a visit to Jennette's Pier in Nags Head. Unfortunately, the aquarium portion was closed for renovations. Instead, we enjoyed the displays that were available and took a stroll along the 1,000 foot pier. The longest pier along the NC coast.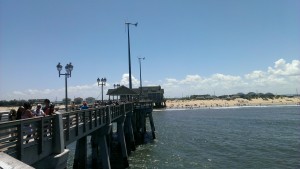 I was really digging all of the information about sustainable energy. The pier has three wind turbines, solar panels, and a geo-thermal unit that powers the HVAC systems. The pier is a research facility for wind, tidal, and ocean current power generation. I had no idea that we were exploring turbine farms under water to capture ocean tidal and current movement to convert it into energy. What a great concept. It still needs some environmental impact study though.
On the pier, it was a beautiful day with a steady south west wind. People were out and about, fishing, people watching, and enjoying the day. There were additional information displays on the pier about how waves are formed and even information about upwelling.
It was hard to leave the pier, it was just a super nice day and we were enjoying our time outside. But we finally left and made a donation to support the pier (suggested donation is $2 per person). Up next, a surprise for Zander…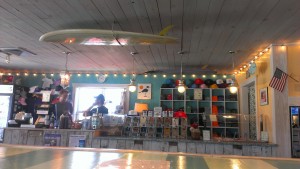 We took the beach road North. There was no rush to get back to the beach house. We arrived at Surfin Spoon and pulled in for a fresh bowl of frozen yogurt. Former professional surfer Jesse Hines and his wife Whitney opened Surfin Spoon and are staying busy. I went to high school with Jesse and have had many surf sessions with him. It's great to see a such an awesome business on the Outer Banks. We visit the Surfin Spoon often when we're on the OBX. I would highly recommend stopping in to check it out and enjoy the deliciousness. We enjoyed our treats. Lots of fresh toppings and a great, relaxing atmosphere.
After our session at Surfin Spoon, we made another surf stop at Farmdog Surf School. My buddy Farmer recently relocated his surf school to the beach road. We got the scoop on the surf camps for the summer and we're considering signing Zander up for a 5-day camp before school starts.
Southern Culture on the Skids
After we had dinner and got the kids to bed, MB and I went out to see one of our favorite shows: Southern Culture on the Skids. The SKOTS were playing at Port O Call and we decided to get our twang on. For the first part of the show, we hung out upstairs and enjoyed the show from above. But then we moved to the front row for the second set. If we were any closer, we would have literally been on stage. Have a listen…
[yframe url='http://www.youtube.com/watch?v=3Pm20T10dQ0′]
Pictures
Enjoy some pictures from day seven: