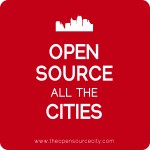 It's time for another update from my recently self-published book, The foundation for an open source city. First, an excerpt from Chapter one, a section called "The five elements of an open source city" which is the essence of the book and the framework for how to start an open government movement in your city. Then, a brief update on how sales of the book are going and a chance for you to add your review.
The five elements of an open source city
How can you apply the concepts of open source to a living, breathing city? An open source city is a blend of open culture, open government policies, and economic development.
I derived these characteristics based on my experiences and while writing my book, The foundation for an open source city.
Characteristics such as collaboration, participation, transparency, rapid prototyping, and many others can be applied to any city that wants to create an open source culture. Let's take a look at these characteristics in more detail.
Five characteristics of an open source city
Fostering a culture of citizen participation
Having an effective open government policy
Having an effective open data initiative
Promoting open source user groups and conferences
Being a hub for innovation and open source businesses
Citizen participation
Probably one of the most difficult components of an open source city is to foster a culture of citizen participation. Governments try a variety of tactics from public meetings to online forums, but if citizens aren't engaged or don't care, then that outreach and collaboration falls flat on its face. Having citizen champions around certain causes can really help boost citizen participation and engagement.
Open government policy and open data
Policy is another key component of an open source city. I've separated the open government policy from the open data initiative because they have different impacts and implications. These policies can go hand-in-hand, but sometimes governments will start with one policy and then as they feel more comfortable with the concepts of open source and open government, the other policy will follow. Take a look at this blueprint used to pass an open government resolution for the City of Raleigh.
User groups and conferences
Participation comes in another form with user groups and conferences—like-minded people gathering around their passions. Just go to meetup.com and you'll discover a variety of groups gathering on just as many topics. User conferences, or cons, gather different open source communities. Hosting these conferences and supporting user groups will boost your open source city credibility.
Economic development
Finally, having an economic development strategy that includes open source companies can help foster innovation and create jobs. More and more cities are also seeing the advantages of having an open data policy tied to their startup community. Cities that can combine their open data policy with their economic development strategy can give a real boost to startups and other businesses. Being a hub for open source companies and a catalyst for open source startups can have a positive impact on the city's bottom line. More importantly, this feeds back in to culture and participation.
In the book, I take a look at how these five principles are being actively applied in Raleigh, North Carolina. I also incorporate other experiences from my open government adventures such as CityCamps and my first Code for America Summit. Although Raleigh is the case study, the book is a guide for how cities across the country, and world, can implement the open source city brand.
How to purchase a copy of the book
 eBook edition from Lulu or Amazon
Paperback edition from Lulu
Book sales update
As many of you that have been following along know, I ran a successful crowdfunding campaign on IndieGogo to help promote the book and raise money for the first run of paperback copies from Lulu. I raised just over $4000.00 and pre-sold 162 copies.
I continued to sell signed copies of the book via my blog and social media. To date, I've sold 66 copies after the IndieGogo campaign ended. In fact, I'll still honor select IndieGogo perks and accept payment through PayPal while supplies last.
Both Amazon and Lulu provide dashboards for authors to monitor sales and revenue. Sales are off to a decent start:
Amazon  – 4 copies | eCopy only
Lulu – 9 copies | 5 paperback, 4 ePub eBooks
Other interesting information…on Lulu, one of the ePub eBooks was purchased through the iBookstore and four copies have been sold outside the North America region.
Add your review
If you don't feel like doing the math, the grand total of books sold to date is 241. I really appreciate all the support. It would be awesome to get a few reviews of the book added to Lulu.com and Amazon. Adding your review would be a great way that you could help me promote this story and get more people thinking about how we can advance the open government, open data, and open source communities.
---
The "The five elements of an open source city" was adapted from The foundation for an open source city, © 2013 Jason Hibbets, published under a Creative Commons Attribution-ShareAlike 3.0 Unported license, available at www.theopensourcecity.com