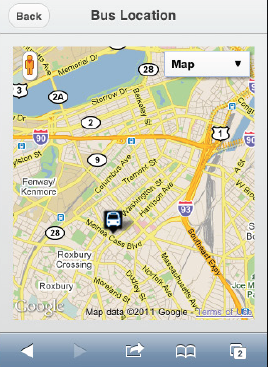 Dear Superintendent Tata,
The school bus my child rides, route 7, has been late three out of four days this week. The first day of school was a nightmare. I freaked out and drove my child to Dillard Drive so they wouldn't be late on the first day. The greeters at the school were very nonchalant about the whole thing. "Oh, it's just the first day of school, the buses are always late." What?!?
Today, we waited over 30 minutes for the bus. It didn't arrive until after 9:00am and school starts at 9:15am. Which is kind of late if you ask me. I could have driven my child to school and been back home in less time. It caused me to be late for my first meeting of the day. We need a solution. The tardiness doesn't just impact the kids, it impacts the parents as well. And while I don't understand the entire problem, I have a partial solution that can help parents save time and be more efficient.
Where's my school bus?
I work for a local open source company here in Raleigh. My day job involves highlighting how the principles of open source, like collaboration, transparency, and participation can improve our everyday lives. At night, I'm a civic geek helping out with initiatives like CityCamp Raleigh where volunteers look to improve civic participation using various technologies.
In my work, I've become interested in the open government movement. And that has lead me to become familiar with an organization named Code for America. One of their open source projects is called "Where's my school bus?" The city of Boston successfully deployed the application. Their problem stemmed after a big snow storm and the school system had over 3,000 calls about the status of buses in a week. Sound familiar?
As I understand it, the project is open source which means the source code is available to be re-used and modified if needed. There are no license fees to use this application, so Wake County Schools doesn't need to purchase any software and would need to do two things:
Stand-up a dedicated server or hosted website to serve the application and;
Ensure that all buses are GPS-enabled and the routes are entered into the app
The results? Parents would be able to use the Where's my school bus? application to monitor the progress of their child's school bus. We can be more efficient with our time and make sure our children don't miss the bus and that parents are on-time in the afternoon for drop-off.
What do you think? Is this something Wake County Public Schools can investigate and deploy? It's a partial solution to the overall problem, but I think it would be well-received by parents across the county.
Regards,
Jason Hibbets, concerned parent