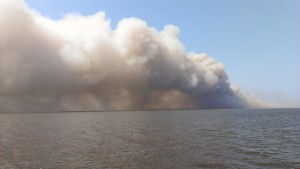 The family was getting ready to head to the pool for the day and while letting the dogs out around 10:30 am, I noticed large billows of smoke. At first, I thought it was a storm, but then it looked like a bomb had exploded in the air. The smoke was coming from the Sound so we hopped in the Jeep and headed to Bay Drive for further inspection.
According to WAVY-TV 10, "A marsh fire burning in Colington Harbor on the Outer Banks of North Carolina was reportedly sparked by fireworks."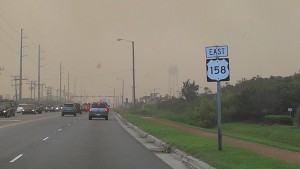 There was light traffic on Bay Drive, as it seemed like everyone wanted to see what was happening. Kill Devil Hills fire trucks were at Dock Street at the boat ramp, so we went to the gazebo at Hayman Street. We watched a small area of marsh flare up and the smoke was spreading westerly. We took the By-pass back to the house, and you could barely see the KDH water tower.
The air started getting worse as the smoke started filling in, Kill Devil Hills seemed to be almost completely under siege. Once we got home, you could smell the smoke in the air. We headed inside and we're waiting to see what happens before we make plans for the rest of the day.
Pictures are licensed under Creative Commons 3.0, attributions to Jason Hibbets, hibbets.net.