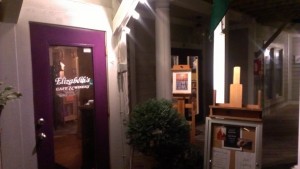 We geeked out today. There's no question about it. After my morning run, I booted up the laptop to find a mini disaster that took up most of my morning. Merri Beth decided to log in for a half-day of work. Meanwhile, Zander kept himself occupied with a variety of games and activities. It felt like we wasted a great beach day staying inside, velcroed to the Internet, but it ended up being much better than that.
My mini disaster was from my web hosting company. Up to this point, they've been awesome, and despite this little hiccup, they are still a great provider. My reseller account with Just Host was recently migrated and upgraded. Which means a few things were updated that needed my attention.
The first major issue was DNS related. This means that all of the websites I run were not accessible and I had to update the records to reflect the changes they've made. The second issue, and a huge goof-up on their part, was they changed my home directory. Which meant that all of my PHP code that referenced the former directory structure was broken—not a fun task to update. Like I said, it took most of the morning to check all the sites I manage and make sure things were working properly.
After I fixed most of my website woes, I logged into work and checked some email. I had planned to work half a day just like Merri Beth did. While I checked on email, joined a meeting, and did a few other things, MB went shopping and Zander hung out with Nana. After we finished our work and chores, we were ready to escape.
Pool and pizza
Merri Beth, Zander, and I decided to head over to the pool and get in a quick swim. Zander had been itching to get in the pool. It was a good call. The pool was refreshing and there was a nice breeze blowing.
After our time at the pool, we went over to Slice Pizza to pick-up the take-out order I called in. We ended up having to wait for 15 minutes anyway. They were pretty busy, but the pizza was delicious.
Once we got back to the beach house, everyone, including Nana, enjoyed some pizza from Slice. After dinner, we got ready to head up to Duck, NC.
A visit to Elizabeth's Cafe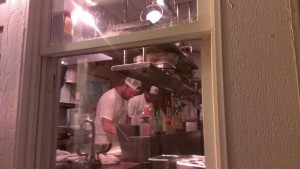 It's been a while since we went to Elizabeth's Cafe. MB and I decided to bring Zander with us. Of course, it was already past his bed time, so he was struggling to stay awake. He caught a quick power nap on the way up to Duck, NC. We hung out on the Elizabeth's Cafe porch for a while, then headed into the art gallery where you'll find a lot of great paintings by head chef and artist Brad Price. Our friend Melissa was taking care of us tonight.
We sat with Leonard Logan, owner of Elizabeth's Cafe, in the gallery. As some of you may remember, I worked at Elizabeth's for a few summers (several years ago). I know of lot of the staff and it's always great to visit.
We enjoyed a few glasses of wine and ordered a dessert. There were so many good choices for dessert, including crème brûlée, strawberry shortcake, key lime pie, and other delights. We let Zander make a selection, and he picked coconut cake with lemon cream filling.
It was great to catch up with Leonard and see our friends at Elizabeth's Cafe. Tomorrow, we'll be beaching it for the Fourth of July.