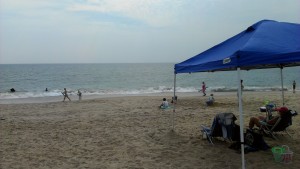 Wow! A great day on the Outer Banks. The ocean was fully cooperating and the weather was almost perfect. My day started off with a 5.7 mile run from the house to the Wright Brothers Memorial. I was up around 6:00 am and hitting the pavement before the sun took it's full toll on the other runners and bikers out on Bay Drive. I had a great run considering the Summer conditions. A beautiful run with some great views.
Once I got back to the house it was time to get ready for a day at the beach. Our goal was to be on the beach by 9:00 am, but I jumped on the laptop and ruined our timing. I needed to give southwestraleigh.com some love and Twitter attention. After that, life was all good. We left the house just after 9:30 am.
We made a quick stop at the Kill Devil Hills post office, then were on the beach at Raleigh Avenue for the day. We set-up and enjoyed the view. The weather was perfect, the water a little chilly (at first, but nice), and the early morning clouds were burning off.
The ocean water was super clear…
Zander enjoyed some boogie boarding first, then we went snorkeling. The water was very clear today and luckily, we had our masks and snorkels in the Jeep. The only thing that would have made it better was some swim fins.
While snorkeling, we saw tons of tiny fish, blue crabs, small sand-colored fish, and lots of sea shells. We really enjoyed seeing all the ocean life about 10-feet off shore. I escaped and got about 40-50 feet offshore to see and was in awe watching the sea floor and sea life through my mask.
Sandcastles are so lame
Sandcastles are so 1980. I built a great sand fort today—yes, just me (I needed the exercise). I thought high tide was mid-afternoon, but made a small miscalculation. I built an awesome sand fort that was converted into a small ocean swimming pool by the late afternoon when the tide came in. Zander and a  few other kids enjoyed the "kiddie" pool.
The fort lasted longer than I thought, but eventually, the tide flattened things out and the sand returned the way it was before we arrived. No worries—it was fun to build.
Sunset & Dessert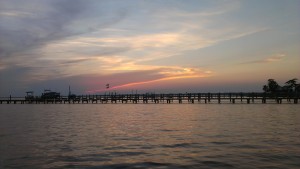 After clocking in a full 8-hour day at the beach, MB and I whipped up some awesome dinner. I grilled some Italian sausages while MB cooked some three-minute penne pasta. Our dinner was delightful. We added some cannolis from Mike's Pastry for dessert. Delicious!
After dinner, MB, Zander, and I hopped on the bikes and cruised over to the Sound to watch the sunset. We arrived just in time and caught some amazing colors. One of the many reasons why we love coming to the Outer Banks.