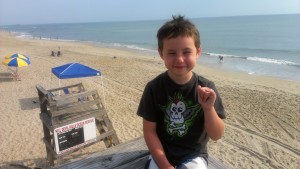 It was HOT today. No question about it. We enjoyed a full day at the beach yesterday, but not today. Being on the Outer Banks helped us forget about the heat for a while. We slept in today, and enjoyed every minute of it.
After some breakfast, Zander and I biked over to check the surf and the beach conditions at First Street. By 9:00 am, it was already steamy. There was some small surf, but nothing worth getting the board out for. We had big plans to hang out at the pool for the day.
After Zander and I returned from our surf check, MB and I prepared some of the fresh fruit and vegetables that were in the fridge. Now, we've got delightful strawberries, blueberries, kiwi, watermelon, green peppers, and squash ready to eat in the fridge. We packed a cooler and then got the Jeep ready to roll. We were heading to the pool for the day.
The pool was refreshing. Although the beach was nice, it was a scorcher and the wind was light out of the South West (which meant there could be flies swarming the beach). Zander was all about the pool. Swimming, diving, cannon balls, and he especially enjoyed the mask and snorkel.
We grabbed a late lunch at Stop N Shop and enjoyed it pool side. While it kept getting hotter outside, we were able to beat the heat. MB and Koko really liked chilling in the water with the noodles. Zander kept doing laps with the mask and snorkel, inspecting every inch of the pool.
Mid-afternoon, I took Zander to the beach for some boogie boarding. The waves were breaking right on shore, which made it easy for him to catch. But really, I was "whipping" him into waves to maximize our wave catching time. There was also a little girl boogie boarding that made friends with Zander. We enjoyed the small surf in the ocean for about an hour.
We went back to the pool and finished the day. Then, we saw some thunderstorms on the horizon, potentially heading our way. We enjoyed our remaining time at the pool and headed home. It was windy and stormy for the rest of the evening, but it never rained in Kill Devil Hills.
I made some fresh guacamole, then started cooking some dinner. Fresh corn on the cob was on the stove and I was getting a beurre blanc sauce ready for the Salmon. We heated up the leftover mashed potatoes and zucchini & onion medley for dinner as well.
We just chilled for the rest of the night. We've got all week to explore the Outer Banks, enjoy the beach, and MB and I are considering seeing Southern Culture on the Skids on Friday night.