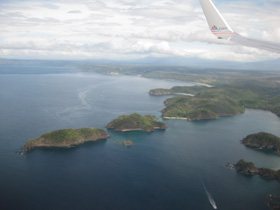 The entire family was up early getting ready to head to the airport. Our flight left RDU at 6:50 AM on December 18. We were bound for Liberia, Costa Rica for a week of vacation.
Of course, the first part of vacation is dealing with travel arrangements and getting there. We checked into our flight the previous night and only needed to get our bags checked in at American Airlines (AA). We were dramatically close to the 30-minute cut-off. While at the self-service kiosk, we selected one checked bag at the advice of the attendant suggesting that the front desk would help us with the second bag and speed things along. By the time we got to the desk, the clock was against us and the time we were trying to save earlier backfired on us.
We were now at the point of not being able to board the plane because one of our bags wasn't able to go. Then the attendant at the desk suggested that we take the bag through security and gate-check the bag. We made it through security and then discovered that our gate was all the way at the end of the terminal. This was not how we expected our vacation to start—running down the terminal to make our flight.
But things took a turn for the better. I was able to gate-check my bag all the way to Liberia. I had a hunch that it wasn't going to make it, so I grabbed a few extra articles of clothing and put them in my backpack. We made our way to our seats, on a full plane, and were off to Miami.
We had a decent flight from RDU to MIA. Our layover gave us enough time to grab some breakfast and then board the next flight…to paradise.
Let the adventure begin
I remember it was very windy when we landed in Liberia, but not enough to cause a rough landing. We de-boarded the plane, walking on the tarmac to an open air terminal. We cleared customs and got our passports stamped. Then we got our bags. Well most of them.
As expected, my gate-checked bag did not make it. The attendant assured me that my bag was not lost and that it would be on one of the next flights. I completed some paper and AA was going to deliver my bag to the hotel.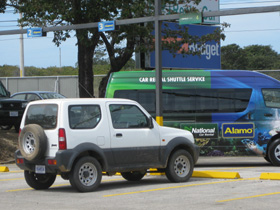 As we walked out of the airport, we were bombarded with cab and rental services, vying for our business. We already had a reservation and were taken to the Alamo van. Less than 5 minutes later, we were getting our rental car. We upgraded to a small 4×4 vehicle and added the full insurance to our rental (recommended to us by friends).
After we inspected the Jimny, we were off. And by the way, there should be an "iny" in Jimny, to let you know that it's tiny. But, it has four wheels and was able to get us from point A to point B. Let the adventure begin!
Let the vacation begin
No GPS, a map without our final destination on it, minimal street signs. We were off to an interesting start, heading west, following hand-written directions that instructed us to turn right after the football field. We knew that it should take us about 1-hour to 90 minutes to arrive at Playa Negra.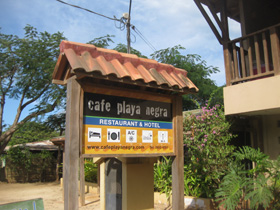 We made our way through the small towns of Filadelfia and Santa Cruz. Then we made a wrong turn in 27 de Abril. We were in gravel road hell, in a car with crappy shocks, but we were happy to be on an adventure. Not sure exactly where we were, and to be honest, not really caring. We would eventually find our way.
The scenic route to Playa Negra was just fine. It took us a little longer (2 hours), but we made it. We checked into Cafe Playa Negra and scored some food. Then we immediately found a beach, Playa Blanca. And it was just in time for the sunset.
A Costa Rican sunset
I think most of us were just happy that we were in shorts and flip flops. The ocean water was warm and it was the perfect set-up for a Pacific sunset. We were some of the only people on the beach and it was just awesome to start things off with the family in such a fantastic setting.
We explored the lava rock reef, a few tidal pools, and watched the sun disappear over the horizon. Everyone was wearing smiles.
After the sunset, we headed back into town and found some dinner. We went to the local pizzeria, La Vida Buena, had some beers and ordered a pizza. Our vacation in Costa Rica was off to a great start.
See more pictures from our arrival sunset and from the entire trip.