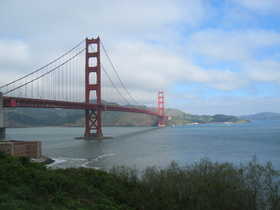 Yesterday, the family started a two-week adventure away from Raleigh. We left the house a little after noon and headed to RDU airport. We hopped on the FastPark&Relax after we got the same exact spot from last week when Merri Beth and I were in Boston. How crazy is that? While on the shuttle to the airport, we talked with Chief Dolan from the Raleigh Police Department who was also headed out to the Bay area.
We were flying Delta for this trip. We checked our bags and made it through security. Then we boarded the plane for the two-and-a-half hour flight to Minneapolis. No in flight entertainment—not even headphone jacks. Really Delta? What a downer. The flight was alright. A bumpy landing with some storms in the Minneapolis area and a small plane that wasn't comfortable.
During our layover, we made a visit to Rock Bottom to grab a snack, then got on the plane heading to San Francisco. This was a three-and-a-half hour flight that went by pretty fast. Thankfully, someone switched seats with me so that I could sit on the same row with MB and Zander.
We finally arrived in California. As we approached SFO airport, Zander got a great view of the Golden Gate Bridge, Alcatraz, and downtown San Francisco. We landed, got out bags, and took the BART to downtown. We made a connection on the 30 bus route, after Google Maps recommended we take the Powell-Mason trolley, which we found out wasn't running. A local pointed us to the 30 and it dropped us off right in front of our hotel on Columbus Avenue.
So we're here and ready to explore. I've been to San Fran several times for work, but I've never had a whole weekend here to do touristy things and, this is the first time MB has made the trip with me. It goes without saying that this is Zander's first time to the West Coast.
We've got some cool things already planned. On Friday, we are heading to Alcatraz with our friend Michelle. Then we'll probably check out the Golden Gate park and Golden Gate Bridge.
Saturday, we're heading to Oakland for an A's game since the Giants are out of town. Sunday is open, but it's supposed to rain so we might have some indoor things planned like the Exploratorium.
Recommendations on places to eat or other things to check out are welcome.