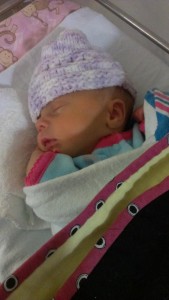 We can't believe it. Last Friday was three weeks since Caitlyn's arrival. It's been a lot of back and forth to Rex Hospital and a lot of education about preemie babies for us. The terminology is different. Every baby has a unique situation. But the ultimate question that everyone wants to know the answer to is…when will she come home?
Caitlyn "Coco" Kalani is making great progress. Everyday it seems like another cord is coming off or another weight goal is achieved. We have the same question you have, when can she come home? And the doctor's put it too us very simply, when she meets the following criteria:
she can maintain her own body temperature (no isolette)
she has to breathe on her own
she has to be able to eat (suck, swallow, breathe)
she has to gain weight (no weight limit set though)
The other big obstacle she is facing is centered around breathing "episodes." The medical terminology for this infant development in premature babies is apnea, which leads to bradycardia. Basically, apnea is a pause in breathing that lasts longer than 20 seconds. It causes bradycardia, a drop in the the blood oxygen level, and that causes a drop in heart rate. Scary stuff.
The big test for Caitlyn Kalani is to not have an "episode" for five days. We are monitoring this closely. Well, actually, the medical staff is watching it like a hawk.
What's happening lately
Merri Beth has been visiting Rex Hospital daily. Spending a few hours a day with Coco and learning each day the nuisances of caring for Coco. She's been monitoring daily progress and reporting back to the family. Caitlyn Kalani is gaining about an ounce a day and is out of her isolette. She's making incremental progress, and we're very happy with that.
My mom made another visit to Raleigh on Wednesday, August 22. She arrived Wednesday evening and went with Merri Beth to Rex on Thursday and Friday mornings. While she was here, Coco breached five pounds. Yeah!
Over the weekend, I finally got a visit to Rex to see Caitlyn. I was back at work for the last two weeks and left most of the visits to Merri Beth. Honestly, I felt there wasn't much I could do. I would hold her, cuddle her, but MB was doing most of the work.
On Saturday, after an 8:00 AM District D Neighborhood Alliance (DDNA) meeting, we had a mediocre visit to see Caitlyn. She was very sleepy and had just eaten just before we arrived. MB, Zander, and myself hung out for a little over an hour then left. She was sleepy and content. I guess it was mediocre because she wasn't that active for us today. We went back home, them enjoyed Packapalooza for the remainder of the day.
Sunday was rainy and overcast. We stayed at home. We cleaned and continued to get the nursery ready for Caitlyn's arrival. We're hoping it will be soon. Hopefully, she's on the fast track to coming hom