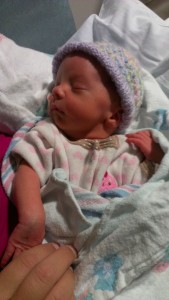 It's been an interesting week for us. Coming home without your newborn is tough, but we've had tremendous support. Caitlyn Kalani is doing great. We've been visiting her daily at Rex Hospital in the Special Care Nursery and monitoring her progress. It's been ten days since Coco arrived a few weeks early. We've had our share of up and downs, but mostly ups!
(As we say at Red Hat a lot, up, and to the right.)
Merri Beth evicted from Rex hotel
It was the morning of Tuesday, July 31. I headed over to Rex, prepared to take Merri Beth home from the hospital. I arrived just in time to review the application for the birth certificate, making sure that Caitlyn Kalani Hibbets was spelled correctly and reviewed a few other details. We paid a visit to Coco, who was improving from this weekends' extraction.
In the Special Care Nursery, Caitlyn was off the UV light for the time being. She had a good morning and was on a feeding tube. Merri Beth had some good "kangaroo care" time with her. It was a good day for Caitlyn.
Back in the hospital room, MB was getting ready to "check out." Our running joke has been the room is just like a hotel room, complete with it's own bathroom and room service. Hence the nickname Rex Hotel and "checking out" of the room.
After MB was discharged, we left the hospital, ran a few errands, and grabbed some lunch. I took Merri Beth to Logan's to get a few plants for the Fall garden. I've lost almost all of my tomato plants to some extreme heat this Summer. We picked out some squash, broccoli, cauliflower, and Romaine lettuce. After the trip to the Logan's, we grabbed some lunch from Tyler's Taproom.
After lunch, we made a quick run to Target to get a few things, then went to Red Hat to visit some friends and watch our internal program called The Show. Lots of folks were surprised to see us, but it was good to see our Red Hat family.
Finding a new routine
It was Wednesday, August 1. Happy August! We were trying out a new routine today. Merri Beth was unable to drive due to some medicine she was taking and really, because of doctors orders. We wanted to keep Zander on his schedule, so it was off to YMCA Summer camp at 8:00am.
Merri Beth and I headed to Rex to see Caitlyn. We stayed there for over an hour. She was having a great day. We each got to hold our little girl. She had no IV and was out from under the UV lights today. Every little bit of progress adds to the big picture.
We went back to the house for most of the day. I was catching up on some yard work that I didn't get to do this weekend. Merri Beth was doing some light nesting and cleaning in the house.
Later that afternoon we ran some errands. We recycled a truck full of cardboard at the recycle center and then made a stop at Good Will. We picked up Zander from camp and headed home. We cooked some burgers on the grill and had dinner as a family.
Nana visits from the OBX
We're almost a week into our new adventure and Nana (my mom) has planned a trip to visit Coco. It's Thursday, August 2 and Merri Beth and I are trying out the routine from yesterday that worked fairly well. We take Zander to camp and head over to Rex.
Caitlyn was having a mediocre day. She was back under the UV lights and we weren't getting to hold her this morning. We just asked the doctor and nurse lots of questions. Then we enjoyed time, just watching Coco.
MB and I decided to check something off of the long-term to-do list: mattress shopping.  We stopped by Sleepy's first and tested out some memory foam mattresses. I had no idea there are so many choices and brands, it's more challenging than I thought it would be.
We took a detour to Downtown Raleigh to swing by Red Hat Tower. Merri Beth needed to get a few things from her desk and wanted to see a co-worker who was in from out of town. After our office trip, we headed over to Cameron Village and grabbed a late lunch at the Village Draft House. Then we wrapped up our mattress shopping at Mattress Firm.
We had a great experience at Mattress Firm. We tested out a bunch of beds on our own, then the sales guy was pretty cool and walked us through the selection process. We made a purchase! We chose a Crestwood Simmons memory foam mattress and scheduled the delivery for tomorrow. Wow, that was easy! It was off to get Zander from camp and get back to the house for Nana's arrival.
The timing was perfect. We got the dogs feed and outside just as Nana pulled into the driveway. We got a few other things done at the house then headed over to Rex for an evening visit with Coco, and Nana's first time seeing her in person.
They only allow two people at the bedside, so Merri Beth and Nana went in first. Mom spent about 30 minutes in there, then Zander and I went in for a little while. The shift change starts at 6:30 pm, so we grabbed some dinner across the street at Buffalo Brothers and went home for the evening.
Tax Free Friday
Friday, August 3—We were back to our morning routine, except Nana was with us. We were out of the house by 8:00 am and got Zander to camp. We were at Rex by 8:30 am and both Merri Beth and Nana were getting their Coco fix. Caitlyn was doing pretty good today. Merri Beth got to do some skin-to-skin care. I hung out in the resource center with my laptop getting some work done, then mom came out and I got to see Coco for a few minutes.
After our visit to Rex, mom wanted to go shopping. We went to Target and Kohls. We grabbed some lunch at Qdoba, then mom had to get back on the road.
MB and I were taking advantage of tax free weekend and some good shopping deals. We went to Cary Towne Center for some afternoon shopping. I scored some new kicks at Rack Room Shoes and some shorts at Pac Sun. MB found a few things at the Motherhood Maternity store. Then we scored awesome baby and kid clothes at The Children's Place and Crazy 8.
After we picked up Zander from camp, we made a quick pit stop at the house, then went out shopping again. I think I'm crazy for doing this, but it's been a while and it's tax free weekend. We headed over to Crossroads and hit up Rack Room Shoes (for Zander), Old Navy, PetCo, Bath & Body Works, Dicks Sporting Goods, Bed, Bath & Beyond, and….wait for it…Total Wine. It was a long day shopping, but we were glad to get it all done today, avoiding the weekend crowds.
Weekend visits
Saturday, August 4—We decided to rest today and slept in. We tooled around the house for most of the morning and worked on laundry. We had lots of laundry even though I knocked some out last weekend. It must have been all that shopping!
We headed over to Rex for Coco's 2:30 pm feeding. Zander was with us and got to hold her for the first time. He wants to be quick and we think he's too rough with her. I don't think he understands how tiny and fragile she is. He's getting better at touching and handling her as we teach and politely correct him.
We spent over 90 minute with Caitlyn today, she's doing great and was very alert for us while we were there. After we left Rex, we stopped by Fleet Feet so that I could pick up a new pair of running shoes. I went with my trusted Brooks and also investing in some compression socks and sleeves. Something new I want to try out during the fall racing season. While I was running shoe shopping, MB and Zander explored the Go Pack store.
One last shopping trip for the day: Lowes. The junk room, aka, the nursery, needed to be painted. We picked out a few sample greens that should match her bedding and picked up a few other various items. On the way home, we grabbed some dinner at Kick Back Jacks. For the rest of the evening, we were cleaning out the junk room—which is now the junk hallway.
Painting the nursery; Meme and Poppy visit
Sunday, August 5 started off at 7:00 am for me with an 18.5 mile bike ride. Yeah! When I got back home, I grabbed some breakfast and started working on the nursery. It was time to prep the room for painting—which I think is more effort than the paining itself.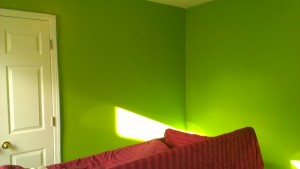 Meme and Poppy arrived. They were off to Rex with Merri Beth and Zander to visit Coco. She was having a great day. When they arrived, they found her out of her isolette and off of UV. They spent some quality time with Caitlyn and then grabbed some lunch.
Meanwhile, I'm back at the house doing some final dry wall touch-up before I head over to Lowes for paint and door fixtures. I spent the rest of the afternoon painting, first and second coat. And I'll say, the "Chopped Chive" green we picked out looks great!
Caitlyn's report after ten days
We were back on our weekday routine, getting Zander to Summer camp and MB and I heading over to Rex. Caitlyn was having a GREAT day. She slept in an open-air crib last night. Her breathing was great and she was taking in over 30mL of food every three hours. The medical staff was ready for MB to start nursing and start that process. She would return to Rex for the afternoon while I headed back to the office.
I intentionally went into the office after lunch because I suspected there would be lots of questions and folks wanting updates. Which is totally fine and naturally after being out for a week and not knowing, first-hand, what was going on during this exciting moment in our lives.
It was great to be back in the office and start getting back into things. For example, after work, I attended a great session about Raleigh's entry into the Mayors Challenge over at New Kind with some stellar individuals.