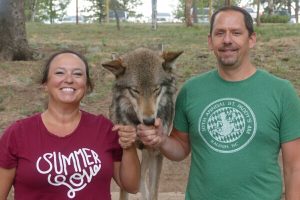 Our first full day in Colorado ended up having a packed agenda—more packed than we thought we could pull off. As we pieced together our itinerary, centered around a visit to the Colorado Wolf and Wildlife Center, our day was coming together. Breweries, cave dwellings, a hail storm, and much more were in store.
My day started out with a 5.7 mile run on Pikes Peak trail. With the higher altitude, I took things easy. What a beautiful trail to run on. I spotted some local deer and enjoyed the morning sunrise to the east of the Rockies. To my west, the gorgeous front range.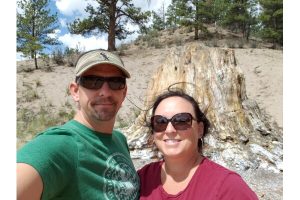 Our first stop of the day was the Florissant Fossil Bed National Monument, about an hour drive from where we were staying. MB and I enjoyed a 1-mile hike in the park, saw petrified Red Wood trees from a volcanic event thousands of years ago, looked at perfectly fossilized animals and plants, and soaked in some geological history.
Our next stop was the highlight of the day. We drove a few minutes from the fossil bed park to the Colorado Wolf and Wildlife Center. We had a reservation for the noon tour. After checking in, we signed our lives away before taking a tour to meet the different wolves at the center. What a great experience! The wolves are beautiful creatures and truly given a bad rap through stories and Hollywood.
After the tour, we had an amazing opportunity to go into one of the enclosures and meet a pair of wolves. MB and I got to meet Chakra and Orenda and spend about 30 minutes with them (along with two of the trainers and handlers). To be honest, we spent most of our time loving on Orenda and Chakra wanted nothing to do with us.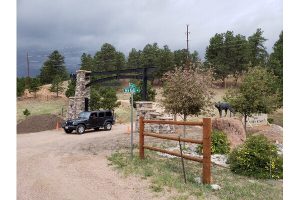 We did learn a lot of things during the tour. Wolves are not really good pets. They are wild animals and domesticating them is not easy. They will tear things up, even if they are mixed with dogs. So, as cool as the experience was, we have no desire to try and raise a wolf pup.
Our next stop was to find some grub. While we were waiting for our pictures of the wolf experience, we meandered through the gift shop and I saw a few menus for some restaurants in the nearby town of Florissant. We hopped on Highway 24 and went west for a few minutes.
The weather was taking a turn for the worse. The wind was picking up and some stormy clouds were rolling in. We thought we were in the clear as it looked like most of the bad stuff was to the east. As we were driving down the highway, into the valley, it started raining. Then, out of no where, nickel-sized hail started falling. It was crazy. Then, as quickly as it started, everything stopped and the sun came out.
We had brunch at a neat little place called Iron Tree Tables & Taps. As we settled in at our table, I could tell they just ended a big rush. We didn't intentionally come in for brunch, we came in for food—they just happened to be serving brunch. They had a lot of great looking items on the menu, and we were told that everything is made fresh to order from scratch. I got an omelet and a flight of their beer while MB got eggs Benedict.
On our way back to Colorado Springs, we mad a pit stop in Divide, CO to check out the Paradox Beer Company. This was a really cool spot and they have a variety of beers. I was able to find some IPA's that I liked, but they had a bunch of sours as well that looked fun.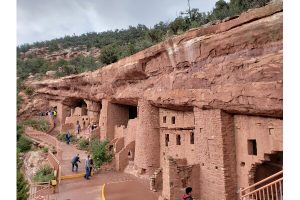 On the outskirts of Colorado Springs is the small town of Manitou Springs, where you can explore the Manitou cave dwellings. We entered the park and began exploring the cave dwellings, learning about the Manitou tribes and their way of life.
Before heading back to our hotel, we had two more stops. First up was Fossil Craft Beer Company with a very friendly bartender named Harley. I got a flight of their delicious IPA's. It was a cool little taproom and it has outdoor seating.
Our next stop was Bristol Brewing Company. It was located at an old elementary school converted into retail and restaurant space. What a neat concept, and apparently, very popular too. It was super busy. We scored two seats at the bar. I ordered a flight and we picked a few items off the menu to snack on.
We made the short drive back to the hotel where we freshened up and got ready to head out to dinner. Our brunch was so late, that we weren't hungry until later in the evening. I had a spot picked out and we headed to downtown Colorado Springs. It was Sunday night and things were slow and not a lot was going on.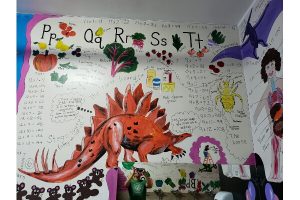 At Iron Bird Brewing we were hoping to get some food, but the kitchen closed at 8:00 pm. We missed it by 30 minutes. Wonk wonk. At this point, we were getting a little hangry. I ordered a flight and we Yelped for a new place to eat (that would be serving food). Strangely, enough, there was a patron sitting near us that was wearing a Red Hat baseball cap. We asked him if he worked at Red Hat and he mentioned that he got the hat through a friend that worked in marketing—whose name did not ring a bell. What a small world.
Dinner was just up the street at a placed called Brewers Republic. Literally, a few blocks north. It was a neat little spot that had some great food options for us and a good mix of beers to try. It was nice to finally get some food and relax from a pretty packed day. Tomorrow, we have a bike tour of the Garden of the Gods. Better rest up!
Amazing pictures from the Colorado Wolf and Wildlife Center
More pictures form Colorado