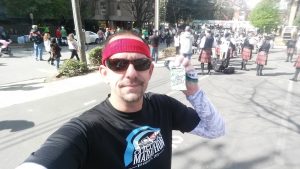 I ran four half marathons over the last six weeks. That wasn't the plan, but that's how it panned out. After a pretty rough winter in North Carolina, where Raleigh set a new record with 158 consecutive hours below freezing, I'm surprised I got the training time and miles in to accomplish this.
I distinctly remember having to do one of my longer runs (7 miles) in early January where the high was 27° F, and there was snow on the ground. The weather this winter and spring has been about as up and down as the hills I train on, which would play out during the spring race season.
Tobacco Road half marathon – March 18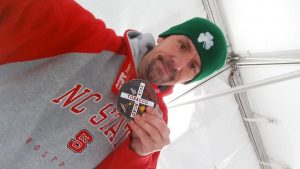 Let's go back to March, when I ran the Tobacco Road half marathon for the first time since 2013. The race is in mid-March which I think is rolling the dice with the weather. It might be cold, but it might be perfect. This year was no different. What looked like a great day for running was colder than I thought. I was not prepared for the entire race. The forecast was for 45° F at start time, but I underestimated the wind chill.
If I had to do it over, I would have run with sleeves and gloves, but I ran with short sleeves and compression sleeves. Half-way through the run, I got cold, and my body started to compensate for a slower pace to keep my core warm. I finished, a little disappointed, but accomplished. I completed my 40th half marathon with a time of 1 hour and 46 minutes. I will say that the after party was pretty jamming with a great band and good beer.
Raleigh Rock 'n Roll half marathon – April 8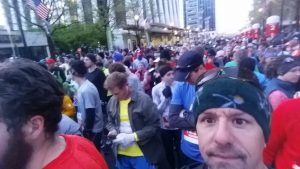 After spending a relaxing week on Oak Island for spring break, getting in some good running miles and finally some time on the bike, it was time to rock Raleigh. Well, that was until a cold front came through and temperatures dropped into the mid 30's before the race.
Having the results of Tobacco Road fresh on my mind and knowing the Rock 'n Roll course had more hills, I was better prepared to run in the cold. Sleeves, gloves, compression sleeves, and ear warmers were all in store and ready to rip off if needed. I was off to a great start, but the hills took their toll on me.
I finished the Raleigh Rock 'n Roll half marathon in 1 hour and 45 minutes (shaving two minutes from Tobacco Road). Not bad. However, the organizers changed the finish line area, and when Merri Beth and the kids came out to watch me finish, they couldn't even get to the finish line because of the crowd and limited viewing area. Then, when we went to see the after party band, we were denied entry because we had our on beverages (hot cocoa) with us. Hello, it was 40° F out. Both of those experiences left a bad taste in mv mouth, so I probably won't be running the Rock 'n Roll series anymore. And I has such a great experience in 2017.
Flying Pirate half marathon – April 15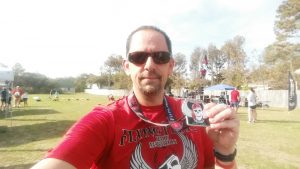 One week later, I found myself on the Outer Banks getting ready for my 9th time racing the Flying Pirate half marathon. I was so excited for this race and had thoughts of getting a course PR. All I had to do was beat 1 hour and 44 minutes. This was totally doable given my training and last weeks results. But the spring weather would ultimately determine my fate.
I took it easy the day before the race. I got a few miles in on the bike, stayed hydrated, ate well, and even got some time on the beach. But storms and rain were looming, and the warm temps and humidity were on the way.
Race morning saw temps at 68° F with 80% humidity. Yuck! If that sounds wonderful to you, it was horrible for me. I sweat very easily, and this was pushing the limits of running a quick race. I had a decent start, but then started feeling the humidity around mile three and the shirt was off by mile five. Aspirations of a course PR faded to a, "just finish this race" mentality by the 10k milestone.
All-in-all, while I finished in a disappointing 1 hour and 50 minutes, my worst half marathon, time-wise, since 2010. I finished in 60th place overall and 7th in my age group out of 900 runners. When I looked at the first place finishers, they were well off their pace. While I was initially disappointed with my results, we were all running in the same conditions, and my experience kept me in the front of the pack to finish my 42nd half marathon.
Oak Island lighthouse half marathon – April 21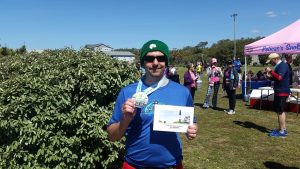 After the Flying Pirate, I was eager to find one more half marathon to run while my body was still trained for longer distances. I luckily found the Oak Island lighthouse half marathon. This race would be my third half marathon in a row in back-to-back-to-back weekends. The weather looked awesome, so I booked an Airbnb and got mentally ready for another race.
While it was my first time running in this race, Oak Osland was celebrating 20 years of the event. I was blessed to be a part of it. There were about 400 runners in the half marathon. There were also 5k and 10k races happening after the half marathon started.
There were several things I was looking forward to with this race. First, a 7:30 am start time (which means 30 extra minutes of sleep than normal races). Second, a fairly flat course—an out and back to the lighthouse on this coastal island. Third, the start line was about a mile from my Airbnb meant no parking hassles. And finally, the race was on Saturday morning, which means I could run the race and have the rest of the weekend to do whatever. Everything was coming together!
I biked the course on Friday afternoon after I arrived. This let me prepare for running the tangents on the curvy parts of the course. It also allowed me to get mentally prepared for where the long stretches would be on race morning.
I was ready to dominate and ending up having a great race. And while the weather was pretty much perfect, I felt it during the second half of the race when the wind was at our backs and the temps starting to get warmer as the sun waremd up the day. I pushed on through, finished 31st overall, and placed 3rd in my age group—by six tenths of a second. What? I've never placed in my age group in a half marathon before. I was super stoked!
The ups and downs of spring running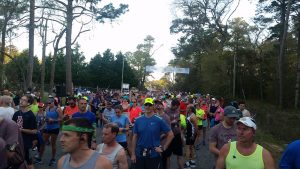 While I percerveered through winter and spring training, my luck on race day varied depending on the weather. Not my best spring running season ever, but this year, we've had some interesting weather. I pretty much have learend to roll with the punches, so I'm overall satisfied with these four half marathons. I only need six more to reach my goal of 50.
I forgot to mention the amazing St Paddy's day 4-miler I ran in just over 30 minutes and a stunning 7:30/mile pace. And the first time I ran the Krispy Kreme challenge, the casual version where I at one donut and brought the rest back to the family. The original challenge is to run two miles, eat a dozen donuts, then run two miles back to the start line, in under an hour. No thanks, the casual version is perfect for me.
With no other races booked for this spring, let the triathalon season begin as the weather starts to get warmer. I'd like to see if I can get an Olympic triathalon distance completed this year, we'll see how the training goes.