Friday, August 4 – The Stage is set for Blink 182 and Lollapalooza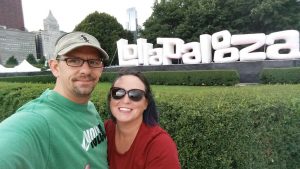 With some severe weather moving through yesterday, the temps took a drop and my morning run to Navy Pier was much nicer with the cooler temperatures. There was also some steady cloud cover which was a nice set-up for a day at Lollapalooza. After breakfast, Merri Beth and I did a little online research and prep for a day at Grant Park. Then we walked from out hotel for a day of music at Lolla.
As soon as we got through security, we stopped at the Tito's stage and enjoyed a few songs from The Frights. Next was Saint Jhn on the Pepsi stage before we walked around Grant Park for a bit. We were interested in seeing Hon Solo on Perry's Stage and this DJ put on an awesome performance. With a few bands under our belt, we were ready for some lunch.
After our meal, we listened to Mura Masa who was on the Pepsi Stage. Then, an interesting band from Austin, Texas named Missio had a crazy song called Killing Darth Vader that intrigued us, well, at least me. We made our way across Grant Park to the Lake Shore Stage where we met up with our friends Lance and Maria. Phantogram was playing and we caught a few of their songs as they wrapped up their set.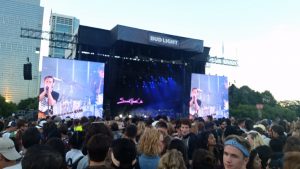 It was time to get ready for the rest of the evening. We went to the other side of the park and watched Ryan Adams for a little bit. Then, we nestled in at the Bud Light stage for the rest of the night for two bands: Foster the People and Blink 182.
I'm not sure my festival going skills are like they used to be back in the day. There were so many people to deal with and it was really tight in the crowd. There were a few moments where it was uncomfortable and too many people in our personal space.
After Foster the People (All the little kids with their pumped up kicks…), we had to wait 45 minutes in a thick crowd of people as we made our way to about 15 "rows" back. Blink put on a fantastic show which we thoroughly enjoyed. MB had a moment in the crowd where we were getting pushed around a bit too much for her liking. Screaming and elbows ensued. Just a bit of drama before the show ended After the encore, we were able to score a few Blink 182 branded ping pong balls.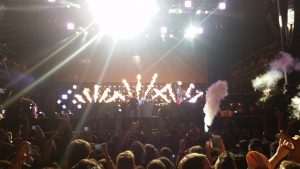 After a long day at Lollapalooza, we were exhausted. We stopped by Millers Pub for a late night snack and then crashed in the hotel room. In the morning, I got in one last run, grabbed breakfast, then we took the train to the airport. We had a blast in Chicago!
Bands that we saw at Lolla
https://youtu.be/wchMmmsztYI