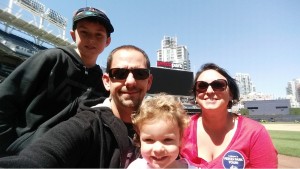 Another beautiful day in Southern California. It was day two of our Spring Break living the Cali life and we decided to head back to San Diego with a few options in mind. We were interested in a tour of Petco Park and then maybe seeing the U.S.S. Midway. Visiting some craft brews were also on tap. We ended up at Stone Brewing and Mission Brewery before the day was done.
San Diego Padres Petco Park – March 26, 2016
The entire family was up earlier than planned. We let Zander and Coco sleep together on the inflatable mattress in the condo—which ended up being a huge mistake. Coco was up at daylight and woke Zander up, which then had a domino effect and woke us up. I decided to go for a run to explore Oceanside. MB hit up the grocery store and managed the kids, getting them some breakfast and then ready for the day.
We were finally ready to get out of the condo and see some new things today. We headed south on I-5 and ended up at Petco Park, home of the San Diego Padres. We made it just in time for the 12:30 pm tour of the park.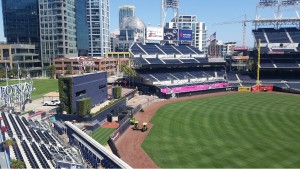 The tour started in the field maintenance area, then to the visitors clubhouse. We got a bonus today because Fox has been filming a new series called Pitch, so the clubhouse doubled as a movie set dressing room. After hanging in the clubhouse, complete with sports massage (just kidding), we were off to the visitors dugout.
Being on the field was amazing. It was still being prepared for opening day and there was lots of activity happening all around the park. We made our way to home plate and continued to soak up the sun and views from inside the park.
Next, we went up to media row with a fabulous view of the field. The tour continued on the second level and we ducked into a luxury suite. The tour concluded at the third base foul line that's located in a historic building integrated into the ballpark. Really cool seats and the only ballpark that has the foul line painted on the side of a building instead of having a pole. Cool!

After the tour, we did some shopping in the Padres store. We like to collect the miniature baseball bats and baseballs. My thing is to collect visors from baseball stadiums I've been to. The only one that I don't have is from Citibank Field. I couldn't find a New York Mets visor that I liked when we visited last July.
We worked up a pretty good appetite during our tour of the ballpark. There were plenty of nice restaurants to check out around the stadium. Yelp was really helpful and we landed on a place called Social Tap. We sat in their outdoor space and the family shared a variety of soft tacos and ceviche.
San Diego Brew Scene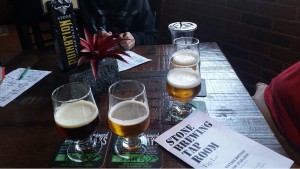 After lunch, we noticed that Stone Brewing Company has a tasting room nearby. Like a stone's throw from Social Tap (sorry I couldn't resist). We made the kids behave while MB and I got several flights to explore the different beers from Stone. Lots of great IPA's, some Saison's, and lots of other deliciousness.
Since we were tasting beers, we made another stop at Mission Brewery. It looked walk-able on the map, but as we started to get further away from the stadium, things were getting a little sketchy. Instead, we headed back to the parking garage, hopped in the car, and drove a few blocks, which also made it faster for us to leave later.
Once inside Mission Brewery, MB and I each got a flight to try. They had a bunch of different beers and varieties. We hadn't had any of their beers before, so this was a real treat. The kids shared a root beer while MB and I enjoyed our flights.
Seal Beach in La Jolla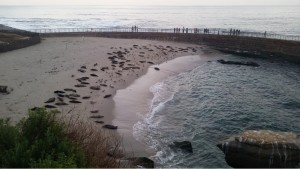 On the way back to Oceanside, we made a pit stop in La Jolla to watch the sunset and check out seal beach. We drove by some famous surf spots like Wind 'n Sea, where there were a few surfers in the water. But "The Shack" was in dire need of repair. We continued up the coast and found some parking on a really busy evening in La Jolla. There were lots of folks out and about near seal beach and La Jolla Cove.
We dove into the hustle and bustle around seal beach. The kids were excited to see a variety of seals laying on the beach, swimming in the water, and playing in the surf. The sunset wasn't bad either. As the sun sank away sinking into the Pacific Ocean, we walked down a set of stairs that lead to the beach and saw some baby pups chilling. The seals were literally right there at our feet and very approachable. But to be clear, we didn't touch the seals, but watched some people get really close for selfies.
By the time we got back to Oceanside, we were pretty exhausted from the day. For dinner, we got some takeout from Rockin' Baja Lobster Coastal Cantina. The restaurant was a short walk from our condo. I went to grab the food and we enjoyed a relaxing Saturday night with the windows open and some California vino.
Tour of Petco Park Pictures
Craft Beer in San Diego
Sunset in La Jolla