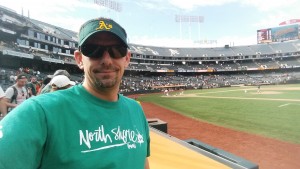 After a rainy few days in Raleigh, I escaped to the west coast. Oakland, California to be exact. I'm here for the Code for America Summit which starts on Wednesday (and includes a pre-summit for Brigade Captains on Tuesday). Since I came out a day early, I decided to have some fun and take in a ball game. Lucky for me, it was a cross-town rivalry game between the San Francisco Giants and Oakland A's.
My flight from Raleigh left at 7:20 am with upgrades on both segments. The flight from RDU to LAX went by really fast. I spent most of my time working and the wifi was lightning fast for being 36,000 feet in the air. My flight from Los Angeles to Oakland was delayed. And my timeline was already tight to make the 1:05 pm start time for the baseball game. We took off 25 minutes late but made some time up in the air. Our bags came out pretty quick and I was on an Uber to my hotel around 12:30 pm.
After an efficient check-in, I quickly ditched my bags in the room, grabbed my ticket, and headed to the BART station en route to the Oakland Coliseum. Just a short 15 minute train ride, I was there in three stops. By the time I made it into the stadium, I only missed the first inning. By the time I got to my seat, the game was at the bottom of the second. The Giants were up 3-0, then 5-0 by the end of the third inning.
Oakland started coming back and made it 5-4 with a few good plays. There was a lot of action during the game and it moved along at a steady pace–better than college baseball (can we change pitches a little faster in college please?). But 5-4 was the final score, despite a rally during the ninth inning.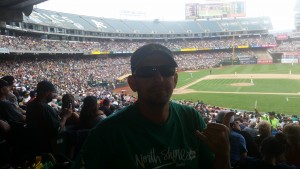 My seat was great (thanks StubHub). A fabulous view of first base. I was a little annoyed with the people around me, so after a beer run during a break in the sixth inning, I found an empty set of seats a row back (with some much cooler fans).
After the game, I decided to get some dinner. I found a nice place called Tribune Tavern. I ordered an IPA. Ate some Ahi Poke. And devoured a salad.
After dinner, I walked around for a few blocks and then got back to the room. I had a looooong day with my flight and the game. I was in bed early, trying to get a head start and some rest before working remote on Monday.
Pictures from the Oakland A's game
Videos from the Oakland A's game
Enjoy!