June has been a busy month. I helped with a book launch, CityCamp NC, and now this…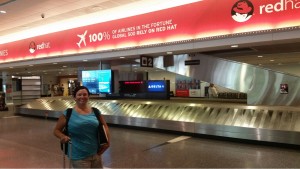 June started off with the launch of The Open Organization, a new book from Red Hat CEO, Jim Whitehurst. My role has changed over the last few months, and while I'm still working on Opensource.com, I'm now leading the effort to build community around the book. This means that we are exploring how leaders lead in an open organization and what makes them successful.
On launch day, June 2, things were really busy. I had to present on Red Hat culture at New Hire Orientation at Red Hat Tower. Then I headed on over to Quail Ridge Books and Music from 11:00 am to 1:00 pm for Jim's book signing and launch. At 2:00 pm, there was a live webcast that we were live Tweeting from @OpenOrgBook. And finally, at 4:00 pm, we had an internal event at Red Hat to celebrate the book launch and distribute books to associates.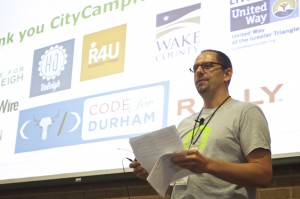 The following week was CityCamp NC held on June 11-13. This is an event that I've helped organize for the last five years and I'm extremely passionate about it. CityCamp NC is two and a half days of open sourced talks, workshops, and hands-on  problem solving, to re-imagine the way the web, applications, technology, and participation will shape the future of NC cities.
To make a long story short, we had a very successful event with over 200 people. It was probably the best CityCamp event Code for Raleigh organizers have put on. There is a great review from ExitEvent highlighting the 10-year old boy who won the hackathon and I posted a recap of the entire event on the CityCamp NC blog.
Get Ready for Boston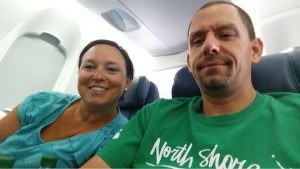 And now…Boston. I'll be speaking at DevNation on Wednesday, June 24, and then working on book-related stuff at Red Hat Summit. But before we dive into conference mode, Merri Beth and I decided to have a little fun in Boston for Father's Day weekend.
The kids are at the farm and the dogs are on vacation at the beach. Our flight left for Boston out of Raleigh-Durham at 11:30 am. Our trip started off great with an upgrade to first class! What a pleasant surprise and a first for Merri Beth.
Once we arrived, we were welcomed by Red Hat banners at baggage claim. I hope everyone arriving for Red Hat Summit and other travels like seeing it just as much as we did.
We made our way over to the aquarium T stop and checked into our hotel. Then, it was out and about. First, we grabbed a late lunch at Granary Tavern. We sat outside and did some people watching. The weather was perfect for us, sunny and 70's.
For the rest of the afternoon, we didn't have much of a game plan. We meandered over to the Boston Harbor Cruises to look into a harbor cruise or a whale watching tour. The three o'clock tours were sold out. Next stop…Seaport District.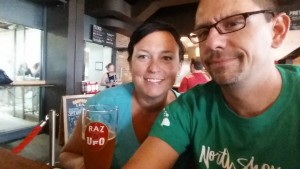 One of the items on our list was to visit Harpoon Brewery. We walked over to the Seaport District, which has really built up over the years. As we approached Harpoon, we could see a line to get into their beer hall. Wow! This place was jamming, crowded, and lively.
MB and I found some seats at the bar and ordered some flights. Everything we had was awesome. And then there are these handmade pretzels. They fly out of the kitchen into the beer hall. We couldn't resist, so we each got one—and they hit the spot!
What an amazing time at Harpoon, I would definitely recommend it to anyone who wants to try great beers in an amazing atmosphere, and, of course, it's straight from the source. Who doesn't want to visit the mothership of one of their favorite beers?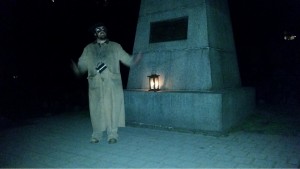 Our non-agenda continued. We strolled back to our hotel through the Seaport District along the waterfront. Once we got back to the room, we decided to do the Ghost and Gravestones Frightseeing Tour. I had low expectations, but overall we had a good time and it was kind of cool to be in the graveyards at night.
Our guides were great characters and had some entertaining stories to share as we drove around on a ghostly decorated trolley to several graveyard sites including Copp's Hill Burying Ground, and the Granary Burying Ground. The tour lasted about 90-minutes and we had fun.
It was getting late and we were looking to grab a late night snack before going to bed. We decided to check out Bostonia Public House. MB had a delicious grilled Faroe Island salmon dish while I had the preserved lemon risotto. Our meal was delightful and our bartender was extremely courteous, nice, and did a great job.
After a pretty full day in Boston, we were exhausted. A big storm is supposed to come through the area on Sunday, we'll have to play it by ear. Until then, enjoy the pictures from our adventures.
Travel and arrival
Harpoon Brewery and Beer Hall
Ghost & Gravestones Frightseeing Tour