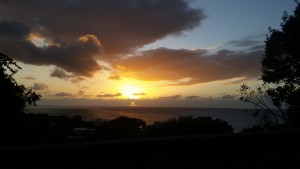 Spring Break was so close we could taste it. Our travels would bring us to the warm waters and surf of the Caribbean in Rincon, Puerto Rico then to the mountain tops of the Rockies for snow boarding and skiing. But we had to get there first. And that meant leaving early from a light rain in Raleigh, NC to a better state of mind.
Friday, March 19 Spring Break travel day
We left our house at 5:30 am to head to Raleigh-Durham airport and hop over to Charlotte. Once we arrived, we grabbed some breakfast during our layover and then boarded the next flight to San Juan, Puerto Rico. And then…a 1-hour delay due to a mechanical issue, but we eventually made up 30 minutes in the air.
It was 80º and sunny when we landed in San Juan. We were eager to get some grub. We found lunch at La B de Burro in San Juan, where we enjoyed some tacos and burritos. Then, it was a three hour drive with some traffic to Rincon.
We checked into our condo near the marina and unpacked. Next we headed to the grocery store for some supplies then it was time for dinner.
We walked to a close-by spot called La Copa Llena. They had a bunch of small plates and we were in a foodie mood. We had the yellowfin tuna Poke, Boquerones Manchego (baguette, manchego, egg, and diced red pepper), Tosta de Camarones (sauteed shrimp with a roasted red pepper cream cheese), and Camarones con cava (sauteed shrimp with chile de arbol, cava, and baked egg). We indulged in a chocolate lava cake for dessert.
It was a long day of travel, just about 14 hours for us to leave North Carolina and have our toes in the sand at Rincon. The next few days should be interesting!