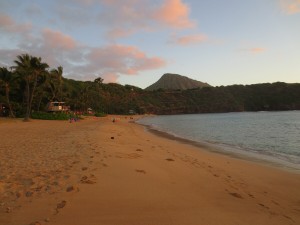 Happy Birthday Merri Beth. It's Saturday, December 20 and our fourth full day on the island of Oahu. Lunches were packed in the cooler, beach chairs were ready, the towels were in the beach bag, and it was still dark out. Hanauma Bay Nature Preserve Park opened at 6:00 am.
Merri Beth, Zander, Coco, my mom, and I left the apartment in Waikiki early and arrived at Hanauma Bay around 6:30 am, the morning dusk just starting to appear on the horizon. We loaded all of our beach gear and walked down the hill to the beach after a short safety briefing at the visitor center about dangers on the reef.
We found a grassy spot in the middle section of the beach, searching for where the shade would be later in the day and settled in. Then, we watched an amazing sunrise that was colorful, picture perfect, and knocked off the morning chill.
It was going to be sunny and warm today, so we made sure everyone was lathered up with sunscreen. The beach started to fill in as people arrived throughout the morning. Once it warmed up a bit, Zander, mom, and I went over to rent snorkel gear for the day.
And that's what we did. We snorkeled all day long and saw many, many colorful, tropical fish on the reef. Zander even spotted a moray eel. No sea turtles today, but I did get some great shots with the GoPro.
Our lunch was enjoyed on the beach where we set-up camp. We made wraps and had chips and salsa with some other munchy snacks. It was a nice time to rest-up and get some energy back for more snorkeling. We had to go in shifts since Coco wasn't going to snorkel. She did get in the water and played some, and had a nice long nap on the beach.
We were on the beach a little before 7:00 am and didn't leave until almost 5:00 pm. We were at Hanauma Bay all day long and really enjoyed exploring the reef and finding all the different kinds of fish.
Exhausted, we headed back to our apartment in Waikiki. For dinner, we decided get some takeout from Malee Thai. Merri Beth and I went to get the food while mom and the kids stayed to get cleaned up and ready to celebrate Merri Beth's birthday.
After dinner, we enjoyed some coconut cake with the birthday girl. Then we crashed. We had a fabulous day at Hanauma Bay.
Pictures from Hanauma Bay