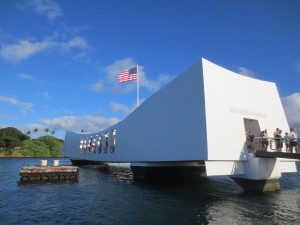 The first half of our day, December 19, was spent at Pearl Harbor and Punch Bowl. Merri Beth, Zander, Coco, my mom, and I were heading to Chinatown to have lunch with a few friends that I met through Code for America and CityCamp Honolulu.
We found some parking in Downtown Honolulu and walked about two blocks to the restaurant that my friends selected. Grondin French-Latin Kitchen is tucked away in Chinatown on Hotel Street. By the time we arrived, Forest and Burt already had a table in the middle of the restaurant. I made introductions, said hello to both of them, and we settled in for lunch.
The Grondin menu was full of delicious items, I wasn't expecting a French-Latin place in the middle of Chinatown. Merri Beth and I ordered some prawn ceviche for the table, we each got a salad and then split the Kauai prawn sandwich. All of the food was delicious.
What was even better was to see my friends and enjoy the conversation with Forest and Burt. I got to see Forest last September in San Francisco at the Code for America Summit, but it was so busy that we didn't really get a chance to catch-up.
After lunch, Forest and Burt went on their way while we walked a few more blocks in Chinatown and stopped by Summer Frappe for bubble tea and smoothies. We took our drinks back to the car and headed back to our apartment in Waikiki.
Surf's up at Diamond Head Beach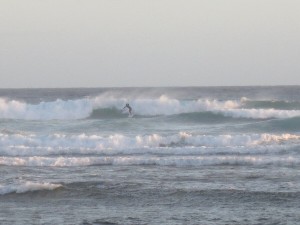 My mom and Coco stayed at our the apartment in Waikiki, it was nap time. I was off to rent a surfboard for the rest of the week while Merri Beth and Zander were off to do some shopping and enjoy the beach.
I headed over to University Avenue and went to Aloha Boardshop where I rented a 6'3″ shortboard. After selecting my ride, I went straight to Diamond Head Beach to check the surf. According to the surf forecast, it was supposed to be chest high with a new southeast swell arriving.
The surf was a little bit bigger than the forecast. It was chest to head high with some surface chop and a little bit of wind. I grabbed my rental board, walked down the path, and paddled out.
I surfed for over two hours, getting out in time to watch a fabulous sunset from the Diamond Head lookout. I caught some fun waves, but the choppiness made it a little hard to get a good line. I did get into a few waves though.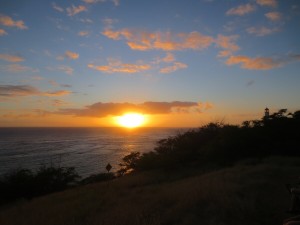 After my surf session, I dried off and grabbed the camera to get some pictures of the surf and then the sunset. Tranquil and beautiful.
While I was surfing, Merri Beth and Zander walked through Waikiki. They checked out some of the shops and stopped by to see the Duke Kahanamoku statue. It was time to relax at Kuhio Beach park. The sun was bright and warm, the water was refreshing. Zander enjoyed swimming and playing in the calm Waikiki water.
While I was watching the sunset at Diamond Head, MB and Zander were down the way at Kuhio Beach getting the same magical scene, with a slightly different angle. After the sun went beyond the horizon, I drove down to pick up MB and Zander and we headed to the grocery store.
Safeway was busy. MB and I got some Ahi poke bowls from the seafood deli and we stocked up on some other items. We also got Merri Beth a birthday cake. After making our grocery store purchases, we went back to our apartment, had dinner, and called it a day. We needed the rest for snorkeling tomorrow at Hanauma Bay.
Pictures from Diamond Head Beach Park