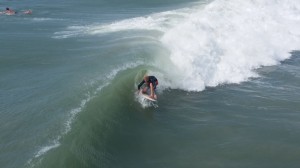 All my research was complete and the call was made for the morning: Emerald Isle was the spot, fingers crossed. Hurricane Cristobal was sitting off the coast, pumping in swell. I used a combination of MagicSeaWeed and SwellInfo to help me pinpoint a surf location—be sure to check out my post Surfing the open data wave that highlights how open data is used by surf forecasting tools. As a surfer stuck inland, if I'm getting in the car to drive two plus hours, I want to maximize my time.
I packed the car with my surf gear and prepared breakfast and snacks on the evening of Tuesday, August 26. The plan was to get up early on Wednesday, August 27 and drive to the coast, surf, then be back in Raleigh for a presentation at the North Carolina Digital Government Summit 2014 at 2:30pm. Needless to say, my time was limited and my window of opportunity was slim. After missing the last storm swell (Bertha), I was itching.
During my research, I looked at swell heights, tides, and most importantly, the wind. The forecast was for North-North East winds. Looking at Wrightsville Beach, it was a little side shore. Topsail Island wasn't much better. Holden Beach didn't have the swell size. But Emerald Isle and Atlantic Beach are south facing and the NNE winds would groom the surf, making it clean. The predicted swell size was waist to chest, but I had a feeling it would be a little bigger.
The x-factor was the tide. High tide was at 9:00am at Emerald Isle, which means the water would be a little fuller. I was willing to roll the dice with that—thinking the swell size and wind would cooperate.
I woke up at 5:15am and was on the road by 5:30am. The cruise control was set and I was on I-40 East, then Highway 24 through Jacksonville to get to the coast. I was in the water around 8:00am, enjoying the waist to chest high surf that was clean and solid.
The tide was having an impact on some of the waves coming in, but there were rights (mostly close-outs) and fun lefts coming in. I was surfing on the east side of Bogue Inlet Pier, a first for me. I surfed Atlantic Beach once, but I wasn't willing to drive the extra 20 minutes (each way) with my limited time.
The swell was supposed to increase throughout the day and I can say for certain that during the time I was at Bogue Inlet Pier, it increased from chest to head high and bigger set waves. I surfed for two and a half hours and my last wave was a sweet head-high right, in and out barrel. A great way to end my session. I grabbed some pictures afterwards and then hit the road back to Raleigh.
Most people think I'm crazy to drive two hours to the beach, surf, then drive back. But I have a job that I love (which provides me with a flexible schedule) and I have commitments that I will not disregard. And while it's easy to blow them off for some surf, I straddle the fine line of both worlds.
The surf was up and I scored. Then I helped to deliver a great session with Reid Serozi and Anil Chawla to almost 80 govies who wanted to learn more about open data, crowdsourcing, and mitigating information requests. Sexy topic, I know. But I maximized life today, and that's what life is all about.