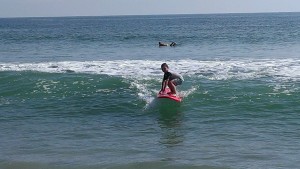 This is it, day one of surf camp. Zander was excited—until we actually got in the car and started heading to Nags Head about 20 minutes before camp started. His nerves got the best of him and I had to walk him off the ledge.
We did a quick surf check across the street from Farmdog's and everything got better. It was about knee to waist high, clean, and it looked like a perfect day to learn how to surf.
We checked in at Farmdog Surf School and met Zander's instructor for the day. Aaron was ready to start the lessons and Zander was excited to pick out a board—NC State red of course. I sat on the beach while Aaron started the lesson. Zander was the only person to sign-up for the five day camp this week, so he pretty much had a private lesson. I think all parties were stoked about that.
While Zander was getting the basics, learning the different parts of the surf board, how to pop-up, and how to wipe out, Farmer was giving someone a Stand-Up Paddleboard (SUP) lesson). I think I might have to try that by the end of the week.
Aaron and Zander were out in the water. Zander paddles around for a bit, then a nice little wave comes along. Aaron pushes Zander into the wave, he pops-up, and is standing up on his first wave of the day. Awesome! I watch him catch a few more, then head back to the beach house to get some work done.
While I was gone, Zander got lunch (provided by the camp), took a few breaks, and caught a bunch of waves. By the time I got back, Zander had informed me that he was already "going down the line." A surf term, for all you non-surfers out there, that means you surf the waves going left or right as the wave breaks instead of straight-in. I thought it might take him a few days to go down the line, it only took him a few hours.
I'd say day one of surf camp was a success. I can't wait to see what day two brings. The surf forecast is for 2-foot waves at a 9-second period with south west winds. So it should be another nice day for surf.
Pictures & Video