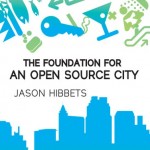 If you are interested in getting an early, signed copy of my book, The foundation for an open source city, now is your chance. I'll still honor the $20, $35, $60, and $120 options from my "Open source all the cities" IndieGoGo campaign through May 15, 2013. while supplies last. (updated May 19, 2013)
Signed copy of the book ($20)—You'll be one of the first people to get a printed copy of the book, signed by yours truly and it includes a sticker and a bookmark. (Add $20 USD for international shipping from the United States.)
Two books, keep one share one ($35)—You'll get all the perks from the $20 level plus you'll get a second signed copy to share with someone else. (Add $20 USD for international shipping from the United States.)
Five copies of the book ($60)—You'll get all the perks from the $20 level plus four additional copies to share, hopefully with your elected officials. (U.S. shipping only)
Ten copies of the book ($120)—You'll get all the perks from the $20 level plus nine additional copies to share, hopefully with your elected officials. (U.S. shipping only)
Ready to order? You can use PayPal—send payment to my email, jhibbets@gmail.com—then let me know which level from above you want to get before the public has access to it.
Fortunate for you, I've got a few extra copies of the book from the initial run that I'll be shipping this week with stickers and bookmarks! It's sort of special, you know, the initial run. Get your signed copy before they're gone. Otherwise, the book will come out the week of May 20 for general purchase.
Thanks for your support.