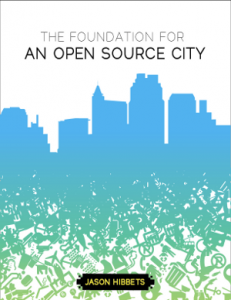 My book, The foundation for an open source city, is in the final stages of completion. I'm very excited. I know many of you have been eager to read the book and get your hands on a copy. And lucky for you, I've got a great way to reserve your copy before I release it to the general public.
I decided to launch an Indiegogo crowdfunding campaign (think Kickstarter, but cooler, and much more inline with the open source philosophy). My goal is to raise $3000 to get the first 500 copies of my book printed. I plan on self-publishing through Lulu.com, Raleigh's goto open source publisher!
I've got a variety of perks set-up that include stickers, bookmarks, and signed copies of the book. I also have a few special perks like video chat sessions, dinner with me in Downtown Raleigh, consulting, and the ultimate prize: I'll help facilitate your unconference.
[yframe url='http://www.youtube.com/watch?v=2vF5I3kJEm8′]
My plan is to run the crowdfunding campaign through the end of March, then fulfill all the contributors in April. I plan on releasing the paper copy and eCopy versions of the book publicly in early May. That's when we'll have the launch party at the Flying Saucer.
Thanks to everyone who contributes and makes this a successful campaign.
What about the license?
A few folks have asked about what license the book will be published under. It will be released as a Creative Commons work. This is the licensing information in the book:
This work is licensed under a Creative Commons Attribution-ShareAlike 3.0 Unported License. To view a copy of this license, visit http://creativecommons.org/licenses/by-sa/3.0/