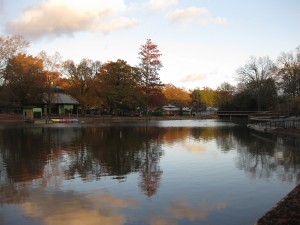 On November 17, 2011, I joined other community members to explore the recently rennovated Pullen Park in Southwest Raleigh, NC. The instant you walk through the gate, you realize that this is a special place for Raleigh. I was immediately impressed. The park staff has many reasons to smile, because Pullen Park is going to attract park-goers from all over North Carolina and beyond.
I invited my southwestraleigh.com blogger, Kris, to attend the VIP-only event. We explored the playgrounds, rode the train, and were in awe at the rennovated carousel. Kris did a great write-up and took plenty of pictures.
The new carousel is fully restored and the train takes you around the park to see it from a different perspective. Depsite the brisk Fall day, it was awesome to get access and preview Pullen Park.
You can see some pictures that I snapped and check out the video of the carousel and Wullitzer organ. The park opens to the public on Saturday, November 19, 2011. Go check it out.
[yframe url='http://www.youtube.com/watch?v=1I9QPfrJmXY']