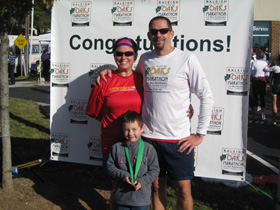 It was five years ago this weekend that I caught the running bug—thanks to my buddy Iain Gray, who ran the Outer Banks Marathon back in 2006. Merri Beth, Zander (6 months old at the time), and I, spent the weekend on the Outer Banks to cheer on the runners. It was a great experience and inspired me to get into running.
Last weekend, I had my best half marathon to date. I finished the City of Oaks race in 1 hour, 42 minutes and I was in the top 20 of my age group. I'm ecstatic with the results. I've come a long way in four years. I'm blessed to be able to run these races and love the feeling when I cross the finish line.
This will be my first year running the Outer Banks half marathon, even though I ran the full 26.2 course last year. Merri Beth ran the half a few years ago and loved it. I've run the Flying Pirate (the first part of the full marathon) twice in the Spring. I think it's fitting that my 12th half marathon will be on my home turf on the Outer Banks.
During my training, I wanted to peak for the OBX half marathon, but a few things changed since I registered for the race. I signed up for the City of Oaks and the OBX 8k race during my training. Even though I want a good time, I'm happy to finish, and of course, party like a pirate.
I plan on taking the Saturday 8k pretty easy, using it as a warm-up for the half. I'm running it with MB and looking forward to the run in Nags Head Woods. Because I'm running both the 8k and half marathon, I'm part of the Pamlico Jack Challenge. That's pretty exciting too!
I'd like to give a quick shout-out to my friend Brandy Foreman, who is running the full marathon. Best of luck, and finish strong! We'll see you at the finish line. Get your pirate on!
My past races
2007 City of Oaks – 1:54 (Fall)
2008 Raleigh Rocks – 1:55 (Spring)
2008 City of Oaks – 1:50 (Fall)
2009 Raleigh Rocks – 1:55 (Spring)
2009 City of Oaks – 1:50 (Fall)
2010 Tobacco Road – 1:53 (Spring)
2010 Flying Pirate – 1:49 (Spring)
2010 City of Oaks – 1:46 (Fall)
2010 Outer Bank marathon – 3:55 (Fall)
2011 Tobacco Road – 1:45:07 (Spring)
2011 Flying Pirate – 1:45:56 (Spring)
2011 City of Oaks – 1:41:38 (Fall)