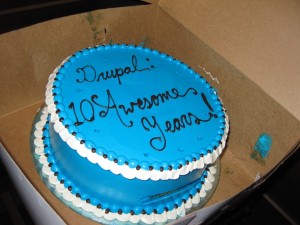 Believe it or not, Drupal is turning 10 years old in 2011. Beyond providing a content management platform that powers millions of websites, Drupal has a thriving user community. And it's not just coders. There are web designers who work on themes and deployment, content providers, admins, and everyday people who use Drupal for their job, organizations, or self-interests.
The North America DrupalCon is taking place this week in Chicago. To help celebrate the tenth anniversary of the Drupal project, I decided to take a pulse of the culture and community. I found 10 people at the conference and asked them to share their Drupal experiences.
Tiffany Farriss – Chicago, IL
Tiffany has been using Drupal for five years and is the DrupalCon Chicago Chair as well as president of palantir.net. Her company provides solutions for education, corporate, and cultural clients.
On the culture of Drupal, she says: The community is doing a good job of addressing the challenges of growth. We're able to maintain our welcoming nature while still having opportunities for small group collaboration. We are still trying to make it special for those that are just starting in the community at both big and small events. Here at DrupalCon we have a number of smaller "events" within the larger conference. The challenge is to accommodate for unlimited growth in the community.
One work in progress that came out of the Drupal 7 release was how the community embraced the need for design and UX. We had to rationalize the coder ethos while respecting the design process. It's incomplete, but in progress.