Did anyone else notice what happened at the end of the NC State vs Boston College game on Saturday October 9th? The NC State marching band changed their tune. The football coaches and players came down to the south end zone (Murphy Center bowl), faced the band and the student sections, then participated in the NC State Alma Mater. But then, the song all the fans were expecting to hear, wasn't played.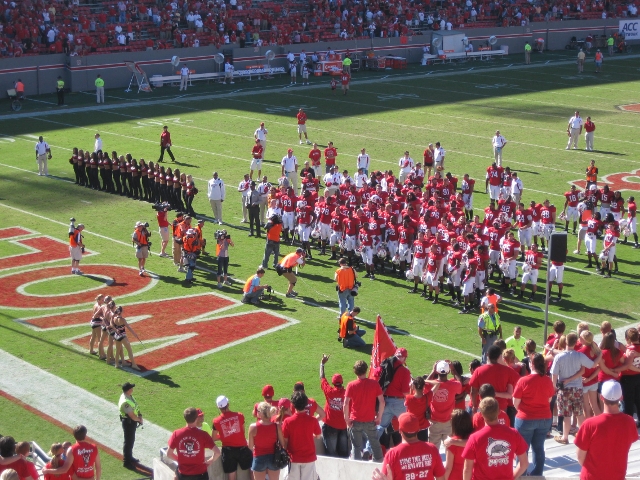 For the last few years, the band plays the NC State Alma Mater at the end of a game, then their version of Sugar Hill's "Apache (Jump on it)." The fans love it. When the "jump on it" part plays, fans do a lasso gesture over their head and spin around once, usually with a little gallop in their step. Some of the football players even stay around on the field and participate.
See last years victory celebration over Murray State:
But a different song was played on Saturday. I heard murmurs in the crowd, "Play the song!" Fans stood there, waiting for the band to play our beloved victory song, which to me, has become a tradition over the last few years.
So why was our victory song not played? Did the band director miss the boat on this one? Is Coach O'Brien killing this part of our victory celebration? Maybe it was because of the margin of victory?
I don't know why. I only know that the song wasn't played. I was a little disappointed and baffled, as I'm sure many of you and other fans were. Does anyone know why this happened and if this is the new norm? Comments welcome.