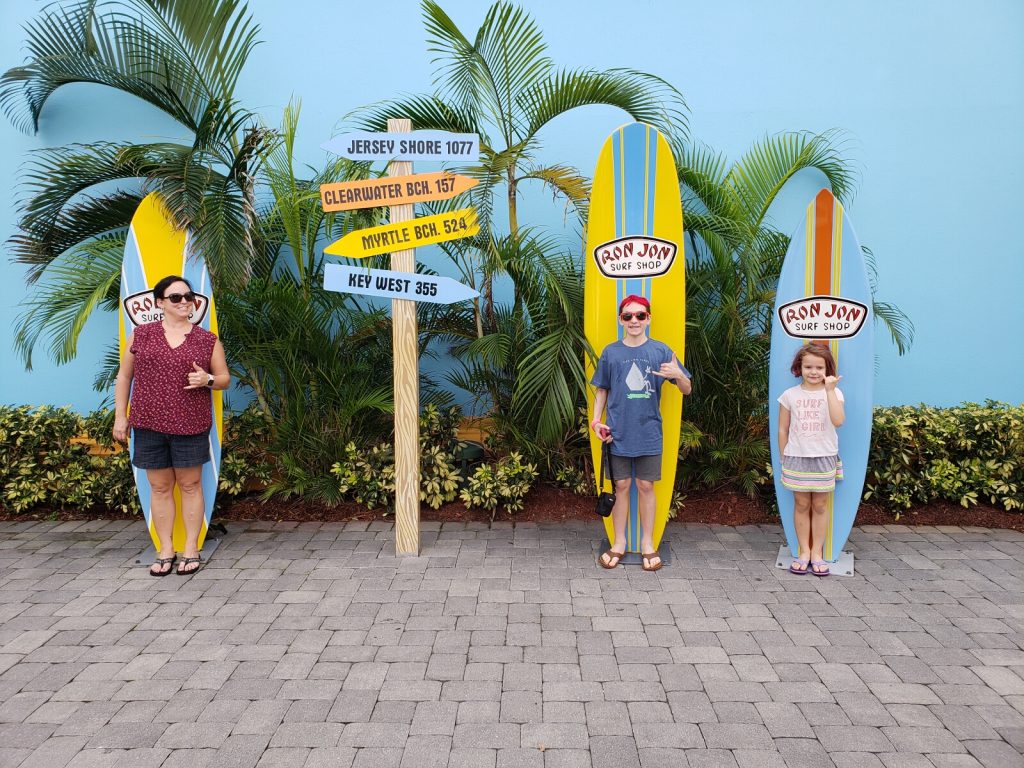 The first full day in Cocoa Beach, Florida, was a little unplanned and hectic. We dealt with urgent care, grocery shopping, finding the best fish taco, and shopping at Ron Jon's surf shop. Let's dive into the details.
Merri Beth was up on the early side of things getting Coco to an urgent care for a strep test. Showing a lot of patience between the doctor's office and the pharmacy, MB and Coco survived the morning.
I went out to explore downtown Cocoa Beach on foot and got in a 3 mile run. There was some light rain at first that turned into bricks of humidity. I did manage to score a selfie at the Kelly Slater statue where the A1A splits from a two-way street to one-way streets.
After my run, Zander and I went to take a dip in the pool, since I couldn't stop sweating from my run, and the girls weren't back yet. Then we went to scope out the beach to check the surf. The weather was fantastic with temps in the high 70's and after the marine layer burned off from the morning, the sun was shining bright. There was a stiff south east wind coming off the ocean about 15-20 mph (that would build the surf over the next few days).
Back at the condo, we were looking for a good spot to grab some lunch, and maybe begin our search to find the best fish tacos. Zander found a place called The Shark Pit, but we decided to go somewhere different, where the 520 meets the beach, Sandbar Sports Grill.
Our first outing in Cocoa Beach was a rock solid pick. Sandbar's had a great atmosphere and seemed to be a popular hangout. They had fancy tropical drinks, which Merri Beth selected a Mermaid Water and I stuck with an IPA on draft. I, of course, got some fish tacos, Zander got gator tacos, and MB went with Mahi Mahi fish and chips. The service was good, food was great, and we left with full bellies and smiles.
After lunch, we did a quick walk-through at Ron Jon's since it was right next to the Sandbar Sports Grill before we drove around downtown Cocoa Beach to check out the scene. Then went back to the condo and started looking for things to do over the next few days in Cocoa Beach and the surrounding area. We were digging on a visit to the Brevard Zoo and Merri Beth had found a really good air boat gator tour for us to look into. We also considered Kennedy Space Center as we started to map out the remainder of our trip.
As we started wrapping up our research, we decided to eat in for the evening after a big lunch. I headed out to the grocery store to get a few items. Once I got back, we cooked the kids some pasta and MB and I nibbled on some leftover's and sipped on a bottle of wine.
For the end the evening, we wanted to get in a shopping trip at Ron Jon's Surf Shop. We thought about going earlier in the day, but thought it might be less busy in the evening—and we were right! Shopping was much nicer with less people around and the kids scored some t-shirts and stickers before the evening was over.