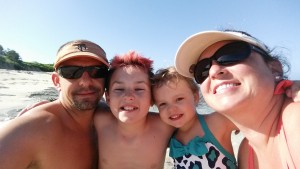 A co-worker had tipped us off about Malcolm's Road Beach. And while we had spent some time here a few days ago, we really didn't get a chance to explore it. Now that we were more comfortable with our snorkel gear and our ability in the water we stayed out longer, ventured out further, and maximized our day on the west side of Turks and Caicos, Providenciales Island.
Island Time: Tuesday, December 22, 2015
We were up early and ready for a full day on the beach. We were done dealing with the rain and weather from the last two days. The sun was shining, the trade winds were steady out of the east, and the fish were ready to play.
The family had breakfast and lathered up with sunscreen. While Zander and I gathered all of our beach gear and packed the car, Merri Beth prepared lunches and snacks. We packed a few beers in the cooler and we were on our way to Malcolm's Road Beach. Our plan was to stay all…day…long.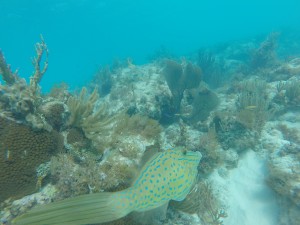 It was a quick 30 minute drive down the highway, then a bumpy ride over some limestone secondary roads/terrain to the beach access. We were the first ones on the beach today and it stayed like that for a while until another family joined us later that morning.
We picked a suitable spot in the shade for our set-up, but spent most of our time in the sun, in the water, or along the small crashing waves. Compared to the last two days, today was perfect and is exactly what we crave in a beach day: Bright sun, nice breeze, clear water. (Now if there was only some surf.) OK, almost perfect.
Zander and I snorkeled for a long time. We were pretty far out and explored a lot of the reef. There were a few boats anchored on the outer reef, and it felt like we were about halfway between the boats and shore. We were hoping to score an early morning sea turtle or reef shark going by, but not today. Lots of fish, lots of color, and engulfed by the sea life playing, eating, and surviving on the reef.
We watched the sun pass overhead and move towards the west. The day was slipping away, but Merri Beth, Zander, Coco, and I were enjoying the warm sun and beautiful views. We ate out packed lunch on the beach and got Coco down for a nap. Best, sleep, ever!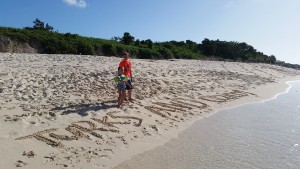 MB was able to get some snorkeling in while Coco napped. A few other people joined us on the beach, but there were no more than 10 people on the beach, including us, for the entire day. As we approached happy hour, it was time to enjoy a few beers.
As the day was winding down, we enjoyed out time together as a family. Alas, it was time to pack things up and head back to our villa and get ready for the evening. The ride back, with the windows down, was bittersweet.
For dinner, we went to a local place I read about called Mis Amigos. Locals, locals, locals. We were the only tourists in here on this Tuesday evening. While talking with the bartender/owner, we learned she was from Asheville, NC. Small world. She told us this was a big local hangout. I felt like we scored. The food was great and the best part, no 12% government tax on our meal. It was one of the best, most affordable places on our trip. We would definitely come back to Mis Amigos.
That was pretty much it for today. An amazing time at the beach and a great meal for dinner. What else do you need before your last full day on vacation? Tomorrow, we're getting on a boat all day. It should awesome!
Explore the reef at Malcolm's Road Beach
Fun Family Pictures from Malcolm's Road Beach
GoPro Pictures from Malcolm's Road Beach