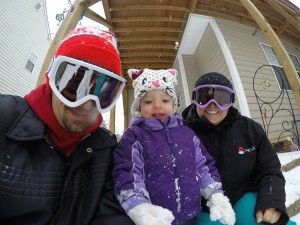 It snowed all day in Raleigh on February 24, 2015. Merri Beth and I were wakened at 6:30 am with a call from Wake County Public Schools announcing a two hour school delay—later to be followed up with canceling of school for the entire day.
Merri Beth left with Coco to head to daycare, but was back after a short while because they were closing for the day as well. Zander and I headed to Red Hat Tower for the day. We left the house around 9:30 am and were in the office in about 15 minutes with snowy conditions. There wasn't much traffic in our direction and we made good time in slushy and icy conditions with steady snow coming down.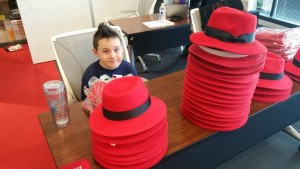 I presented as Red Hat new hire orientation and Zander got to watch and help out by handing out T-shirts and Fedora's—voluntary of course. I was able to get some other work done before Zander and I played a few rounds of air hockey during lunch. Then, as the snow continued to fall, I decided that we should head back home for the remainder of the day for the rest of my meetings.
Once the afternoon had expired, MB was wrapping up work and I got to a stopping point. It was time to go play in the snow. We got all of our snow gear on and headed outside. Enjoy our GoPro pictures and video from around Ramsgate Manor.
[yframe url='https://www.youtube.com/watch?v=XS6GdvISh3o']
[yframe url='https://www.youtube.com/watch?v=0Kz5VdyNXM8′]
Snowday Pictures