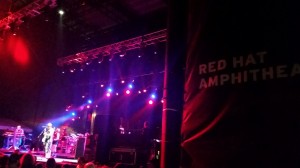 We were kid free and it was Friday night! Our plans involved going to the Red Hat Amphitheater to the Slightly Stoopid show and grabbing a bite to eat before the concert. We ducked out of work a little early to get ready for a fun Friday night.
Merri Beth and I headed to downtown Raleigh, parked at the City Plaza deck, and walked over to Jimmy V's. Our plan was to grab some food then head to the show. We started our meal off with risotto cakes and side salads then split a goat cheese pizza.
While we were eating dinner, we recognized NC State legend Dereck Whittenburg. Our server told us that the 1983 NC State Men's Basketball team was having a reunion at Jimmy V's.  He confirmed that our Whittenburg sighting was legit, and even asked Dereck to come over and say hello. Which he did!
We saw some of the other players and coaches trickle in to the reunion while we finished our meal. We grabbed a drink at the bar and mingled with some of the team, getting a picture with Sidney Lowe.
We were alright with missing the first opening act, G. Love & Special Sauce, but we kind of wanted to see Stephen Marley perform. I'd say under the circumstances we made a tough choice to stay at Jimmy V's longer than we intended too.
MB and I walked over to Red Hat Amphitheater where it was intermission. We stood in line for a beer, found our seats (on the third row), and patiently waited for the show to begin. Slightly Stoopid took the stage and the place was jamming.
They played for almost two-hours only taking a short break. We really enjoyed the music. Slighlty Stoopid played a good mix of their popular songs, 2am, Closer to the Sun, and others. We had a great time at the show.
We stopped by Crank Arm Brewery on the eve of their one-year anniversary after the concert. What a great way to cap off the evening!
Video
Pictures